The unveiling of the world's first commercial on-farm robotic milking rotary parlour was nearly perfect. And the one exception wasn't the fault of the new milking robots on display.
DeLaval's robotic milking researchers recently showcased their new automatic milking rotary for international journalists at a 415-cow dairy that has been testing the technology since 2010 in Gamleby, Sweden.
The five robot arms in the parlor – two to clean, two to attach and one to post-dip – milk 390 of the dairy's cows in a 24-stall rotary parlour.
The dairy's remaining 25 cows are milked manually through the same parlour. These cows must have their milk segregated or have a unique udder conformation (too high or too low) to be reached by the parlour's robotic arms.
The robotic arms stole the show at Odensviholm Dairy for most of the 20-minute live demonstration.
Only a few noticed during the sneak peek that the rotary's turntable hung up at least once, requiring a nudge from one of the on-farm DeLaval technicians, or "babysitters" as the dairy's employees call them. The technicians said the hiccup was an anomaly and unrelated to the performance of the robots.

Overall, technicians and executives had glowing comments about the new rotary.
"The driving force and request from our customers over the past few years has been to help them not be dependent on labour or change how they use labour on the farm," DeLaval's Director of Automatic Milking Systems Jonas Hallman says.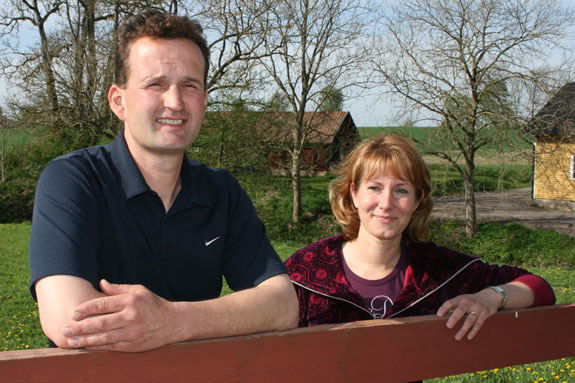 The system has done just that for third-generation Swedish dairy farmer Stefan Lowenborg and his wife, Karin.

DeLaval approached the couple in early 2009 asking them to be a test farm for the first commercial installation of its new 24-stall robotic milking rotary. It had previously tested milking robots on an experimental 16-stall rotary in Australia.

The Lowenborgs had been using one of the company's rotary parlours, a 24-stall platform, since 2000. Back then they were milking 130 cows with nine employees on the farm. Milking took three to four hours per shift.

Standing in the milking pit one day early in the new millennium, Stefan says he remembers wishing that someone would make it possible for him to dairy without having to do the milking himself.

When DeLaval's invitation arrived in early 2009 the Lowenborgs talked to their employees to get their opinion.
"They said, 'Yes, let's go for it,' " Stefan recalls.

Hallman says the Lowenborgs were the perfect test case because they had already been using a rotary parlour for years, were accustomed to using dairy software to track information about their cows and were a progressive and relatively large commercial operation by Swedish standards.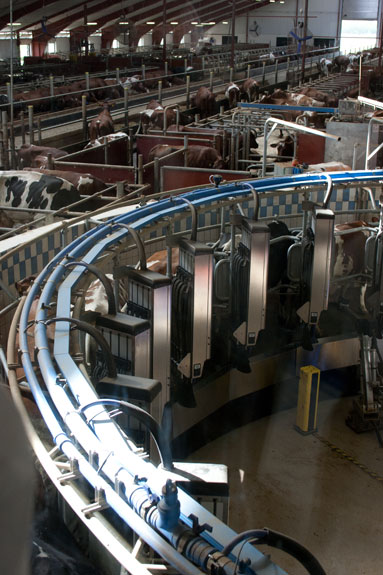 In September 2009, the Lowenborgs expanded the length of their freestall barn to make room for 220 additional cows and freestalls and a 16-stall herringbone parlour. They used the herringbone parlour to milk for three months while their old rotary was retrofitted with a new platform and prepared for the introduction of the new robots.

To re-acclimate the cows to the rotary the Lowenborgs milked cows manually on the new automatic rotary for about a month. The robots took over in early 2010. They left the herringbone parlour up throughout that summer just in case it was needed as a backup milking system.
When they were confident it would no longer be needed, they replaced it with more freestalls, expanding the herd to its present size.

DeLaval says, at this point, its robotic milking rotary will only be offered in the 24-stall size; however, the number of robotic arms a producer purchases will be somewhat scalable.

"The AMR operation is a very flexible operation," DeLaval's Vice President of Capital Goods Andrew Turner says. "The basic standard is that you can invest once in one-teat-clean and one-teat-attach robots or you can increase your investment, depending on the ambition for your farm. It doesn't mean you have to consistently buy new platforms to increase your capacity."

The minimum herd size for efficient use of the new robotic parlour is projected at 300 cows. The test farm is using the maximized system which includes five robotic arms.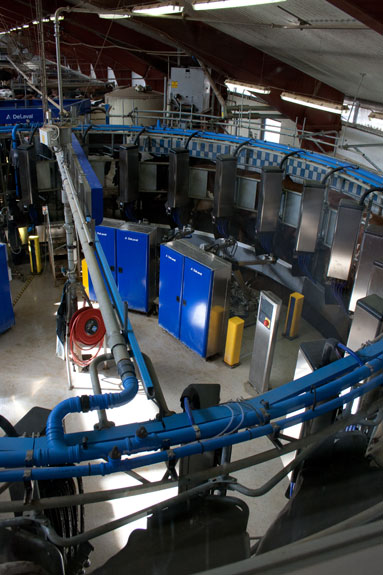 Hallman says the Lowenborgs' experience shows that with five robotic arms installed a dairy could milk 90 cows per hour or up to 800 cows per day, including necessary CIP downtime, without any human help.

Turner would not comment on the sale price of the new technology, saying only that it would be competitive with other alternative milking systems, particularly automatic ones.
More details will be available later this year and into 2012 when the system is commercially available. (Click here to read an accompanying article about the estimated timeline for introduction of the robotic milking parlor in the U.S.)

"We are on a test farm, so we hope you will be understanding, but it's still a commercial farm. So this technology has to pay its own way going forward," Turner said at the event.

The dairy's Swedish-Red Holstein cows were producing 64 pounds of milk per day in May 2011 with a fat test of 4.2 percent and a 3.6 percent protein test. Their somatic cell counts hover around 200,000.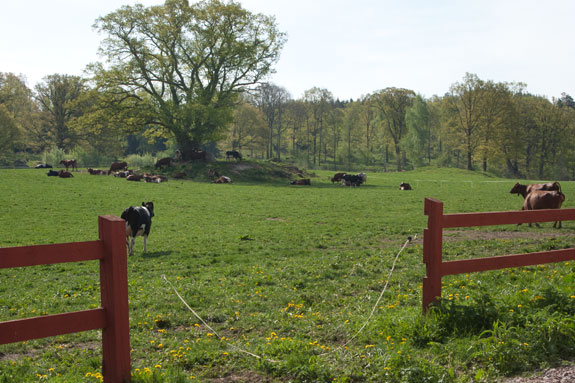 The farm raises most of its own feed on 2,200 acres and has adjacent pastures to meet Swedish law requirements for access to pasture during the spring and summer months.
Most of the cows' feed is provided through a TMR at feedbunks in the enclosed freestall barn.

The dairy owners say the transition from manual to automatic milking has given them more time to focus on other aspects of dairying.

"The calves are getting more attention," Karin says. "And we have more time to take care of sick cows."

The Lowenborgs say it took the cows about two milkings to get used to robots in the parlour.

"The first time they were wondering what was happening around them," Stefan says. The most startling sound, he says, was that of the prep robot flushing out its cup after each cow. The "pussshht" sound repeats about every 30 to 40 seconds.

However, the sound is now a new normal, and the Lowenborgs both agree the cows actually prefer to be milked by robots and not by humans.

"For the cows, it has been really easy," Karin says. "With the robots, the cows are more calm. When you have different people milking they do different things. Cows don't like that as much as they do the consistency of the robot."

The Lowenborgs believe they will be able to expand to 900 cows without adding much, if any, more staff.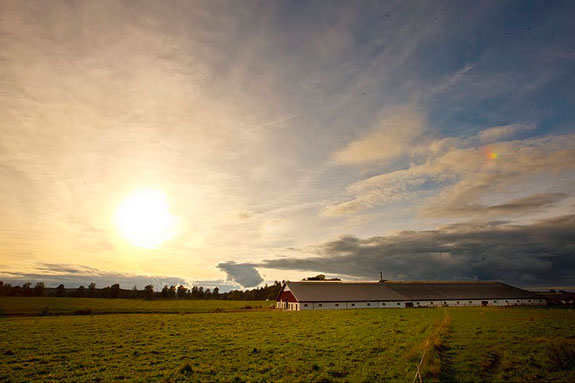 "We think we are going to have the same group of people working here, but they can do different things during the milking time."

As to the timetable for when their next expansion may occur, the Lowenborgs were unsure.

"Not right now, at least I hope," Karin says. "We will settle down, at least that's what we say. Come back in two years and maybe we will have changed our mind." PD

—Disclosure: Travel consideration to the test farm location was provided by DeLaval.
PHOTOS:
FIRST: Stefan and Karin Lowenborg are third-generation dairy farmers in Sweden. Their 415-cow dairy farm is considered a relatively large commercial operation for Sweden. However, the couple doesn't think much of it. "This is just a farm. We just work here. We don't think of it as a big farm," Karin says. Photo by Walt Cooley.

SECOND AND THIRD: DeLaval's new milking robots in action on Odensviholm Dairy in Gamleby, Sweden. The last of five robotic arms at Odensviholm Dairy sprays post-dip on cows about to leave the 24-stall rotary. Photos by Walt Cooley.

FORTH: Swedish law requires that dairy cows must have access to pasture during spring and summer months. However, cows are not required to consume a specific portion of their diet from grass. Photo by Walt Cooley.

FIFTH: The freestall barn at Odensviholm Dairy was expanded when a new robotic milking rotary parlor was installed. The lighter gray roof in this photo (closest to the sunset) is the new part of the barn. It enabled dairy owners Stefan and Karin Lowenborg to add an additional 220 cows to their herd. DeLaval courtesy photo by Björn Qvarfordt.



Walt Cooley
Editor
Progressive Dairyman magazine