Studies have shown significant benefits of a proper colostrum-feeding protocol. These represent the need to rapidly thaw and feed four litres of high-quality colostrum within 30 minutes after a calf is born.
For farms wanting to use their own colostrum, getting a fresh cow milked or banked colostrum thawed in that amount of time can be a real challenge.
A company in Denmark recognized this need and developed a rapid-thaw unit that will bring frozen colostrum to feeding temperature in 20 minutes or less.
In the past year, coloQuick has been brought to the North American market by its exclusive distributor, Golden Calf Company LLC.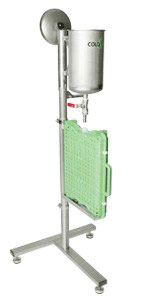 Andrew Beckel, owner of Golden Calf Company, says, "The challenge is to get it to them fast enough. Our system warms frozen colostrum efficiently, consistently and without damaging the colostrum itself."
The thawing unit comes with a filling station where the colostrum can be tested and measured before it is filled into single-dose packages that can hold up to four litres of colostrum.
This disposable bag is placed inside a plastic cartridge that not only fits easily into the thawing unit, but also serves as a carrying case with attachable shoulder strap.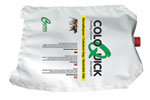 Once filled, the individual bags of colostrum can be placed in a freezer or pasteurized with certain variations of the thawing system and then frozen.
To thaw, the cartridges are placed inside the unit, which heats up a water bath. It keeps the water heated as the cartridges are rotated around.
On average it takes 15 minutes to thaw one, two or four cartridges. Very dense colostrum should thaw for 20 minutes, while lower-quality colostrum could take just 12 to 13 minutes, Beckel says.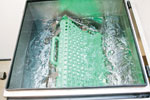 Dairy producer Henrik Helmig is amazed at how easy it is to get frozen colostrum to drinking temperature. In just 20 minutes he can be feeding a newborn calf. He says manually thawing colostrum usually takes almost an hour.
Helmig first came across this technology at a trade show in Denmark. "It looked to me like quite a good idea," he says. "It's a nice, efficient way to see newborn calves get high-quality colostrum."
He runs a 185-cow dairy in Olds, Alberta, along with his parents and one employee. Prior to purchasing the thawing unit, they were feeding fresh colostrum. "Now we don't have to milk the cow right away," he says.
On his trip to Denmark, he witnessed the original thawing unit at work on a number of farms, but when he purchased his unit, he opted for pasteurization, too.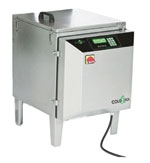 This should help with less contamination of the colostrum and he's hoping it helps with Johne's Disease control, as well.
Because of the unit's biosecurity measures, Helmig received a 50 percent subsidy from Alberta's Growing Forward program to offset the cost of purchasing it.
After using this technology for three to four months, Helmig is already finding his calves to be less susceptible to disease.
In Lacombe, Alberta, Wim van de Brake is also noticing a difference in his calf crop.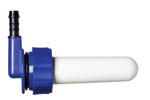 "We already see way healthier calves than before," van de Brake says. "After three to four days, calves are way more alert than what they used to be."
As a member of the Johne's Disease Advisory Committee, he takes disease control very seriously on his 170-cow farm.
"We prefer using our own colostrum instead of purchased dried colostrum because we then get antibodies for the diseases we have here on the farm," van de Brake says.
Last fall, he started pasteurizing milk fed to calves, but found that colostrum from one cow was not enough volume for the pasteurizer.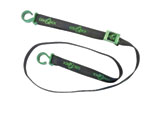 He purchased the thawing unit at World Dairy Expo in Madison, Wisconsin, and found that pasteurizing the colostrum in four-litre batches at one time was much more convenient.
And so was the thawing process. "When a cows calves, one-half hour later you can feed the calf frozen colostrum," he says.
The thawed colostrum can be fed directly out of the bag it was stored in. The feeder simply attaches a hose and a nipple or a tube feeder to the bag and feeds the calf.
The cartridge also comes with straps that can be worn over one shoulder or both as a backpack, allowing a feeding with free hands.
Van de Brake's only suggestion to improve the technology is that it be available with reusable bottles instead of the disposable bags.
ColoQuick comes with three different system options. The initial unit is the thawing unit with room for two cartridges. It sells for $4,700.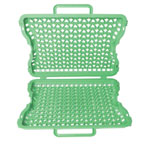 A second unit, for $7,500, with two cartridges, also has capability of pasteurization. Each of those machines can service a farm with up to 1,500 cows. A larger pasteurizing unit, for $9,000, can hold up to four cartridges.
Each system is sold with the thawing/pasteurizing tank, 10 cartridges, disposable bags, esophageal tubes, nipples and shoulder straps.
"The unique stainless-steel tube feeder, which comes standard with any of these systems, is easy to keep sanitized," Beckel says.
"Unlike its plastic counterparts, it also eliminates the risk of getting scuffed up and causing harm to the newborn's throat." Additional four-litre bags can also be purchased at $2.95 per bag. PD
For more information, visit www.goldencalfcompany.com, or contact Beckel at or (715) 658-1792.
New technology questions
1. Do you feed colostrum to your calves at birth?

2. Do you have issues with sick calves less than one week old that are not easily explained or are difficult to zero in on a diagnosis?

3. Do you refrigerate or freeze colostrum?

4. Do you wish those containers could freeze the colostrum faster?

5. Do you struggle with keeping your colostrum system clean?

6. Would you like to minimize the amount of containers used for colostrum?

7. Do you currently pasteurize milk or have interest in pasteurizing colostrum to improve biosecurity for your herd replacements?
If you answered yes to five or more of these questions, this technology may be one for you to consider.