Someone recently shared an article with me that emphasized the importance of lifelong learning. It was written by Ken Blanchard, chief spiritual officer of The Ken Blanchard Cos. and best-selling author.
I have always been a proponent of perpetual learning, and I resonated with his thoughts on the topic.
For starters, Blanchard said he was taught the only way to grow as a leader is to keep learning. "If you aren't learning and growing, you're just wasting away," he wrote.
I believe everyone is a leader in one way or another. Some people lead a team of people. Some people lead a business. And some people lead both. In order to lead your team or business through its next phase, you will likely need to learn something new or call upon knowledge you learned at some point along the way.
If you don't bother learning, what is the likelihood of your team or business succeeding over time? Could it just waste away like Blanchard proposes?
Good leaders develop themselves by constantly learning. They understand they are the owner of their technical competence. It is not anyone else's responsibility to build upon their knowledge and skills, and the more knowledge and skills they have, the better they can navigate through challenges in their careers.
Blanchard offered reading, podcasts and mentors as avenues for learning. I would add workshops, seminars and training programs to that list. It is the time of year when those events are plentiful in the dairy industry. Be sure to keep an eye on our calendar of events the next few months, and try to get to one happening near you. I find there is always something to be learned from the speakers as well as the networking that occurs during the breaks.
While some people may have already abandoned their New Year's resolutions by now, I don't think it's too late to set a goal for the year. Blanchard suggested setting at least one learning goal every year.
It could be something to help you in your profession, such as learning how to ultrasound your animals, trim hooves or calculate financial ratios. Or if you want an escape from work, set your learning goal for something different than your job, like becoming a gourmet cook or playing golf.
For at least 50 years, my dad farmed the land across the road from a golf course, but never played a round. Then one day his cousin invited him along on a golf outing, so he set out to learn the game, and now he'd rather be golfing than on the farm.
No matter what you choose as your goal, if you see it through, you'll be able to say you have a new skill by this time next year. If you keep it up year after year, you'll have a resume full of skills and abilities that show you are committed to a life of learning.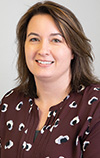 Karen Lee

Editor
Progressive Dairy