The town I was raised in had a large lake that was enjoyed by many for recreation.
One summer, my brother decided to venture out onto the open water. He always enjoyed small-engine repair work and had acquired an old boat from our great uncle.
Once he had the motor running, he gathered some friends and headed to the lake. After the motor quit while out on the water, they were towed back to shore. The next time they went out, they decided to bring some oars. With sore arms, nobody wanted to join him on a third trip, and my brother's short-lived boating days were over.
Some people prefer using Mother Nature for power and opt to go sailing instead. This form of boating tends to be romanticized in the movies, but it is not for the faint of heart. With a steady wind, a sailor can really move, but what happens when that wind dies down? You end up stuck in the middle of the water like my brother and his friends. Unless you have a back-up plan, there you sit.
In talking with dairy producers and others in the industry at recent events, it seems like that is the feeling in today's dairy industry – slightly adrift and exposed to the elements.
No one can argue the strong winds felt in dairying just a year ago, but now that the winds have pulled back and sails seem to be hanging flat, many are left wondering what to do next. At the Canadian Dairy XPO recently, several speakers shared stories of diversification.
Organizers of the event announced their own plans to branch into another industry by introducing the first-ever Canadian Poultry XPO coming in 2020. At the press conference, Alanna Coneybeare, a diversified dairy and poultry producer from Listowel, Ontario, said, "Poultry offers a unique opportunity for young farmers or those looking to diversify." It pairs well, since a poultry chore schedule can often be worked around off-farm jobs or a milking schedule, she added.
Sterkholm Farms in Embro, Ontario, has already spread from being a dairy farm to also working with veal, custom field work and a seed company. More recently, they added poultry to their portfolio with a layer operation. "So far, we're really happy to be in a diverse business," Ben Sterk said.
The same sentiment was shared by dairy producers who participated in a panel presentation on the topic.
Over the years, Craig Connell of Wicketthorn Farms in London, Ontario, has supplied TMR feed to a neighbour, custom raised heifers, raised sheep and now has a 2,400-head beef feedlot. "We've always looked at diversification," Connell said. "My thing is: If you're going to stick to dairying or do something the same as everybody else, you've got to be a lot better than average. Being average anymore isn't good enough."
Christian Kaiser agreed, "In dairy, you have to be better, bigger, make it cheaper – so maybe find, for a different source of income, something you can do different than everyone else to put added value to it." For his family farm in Noyan, Quebec, that meant purchasing a milk processing facility and providing milk for specialty products like A2 milk.
Risk management was the main reason Dave Green at Greenholm Farms in Embro, Ontario, installed an anaerobic digester. "Dairy has been a very strong industry for a number of years, but things can change. As you guys well know, in this last year there has been a bit of turmoil in it. So any time you can spread your income over different avenues, it just gives you strength as a whole."
For those feeling a lack of wind in their sails, diversification might be an option to consider. However, starting a new business entity is not an easy task and requires a fair amount of education in that field.
"Layers really fit into our whole succession plan, but we had to investigate. There was a learning curve for egg production," said Marian Sterk of Sterkholm Farms.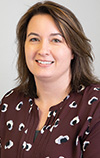 Karen Lee

Editor
Progressive Dairyman