We all know we are supposed to treat others with kindness. However, with the stresses of daily life, especially when it comes to living and working in agriculture, it can be overlooked more often than many of us would like to admit.
When it gets busy on farms, typically the first people we stop showing compassion to are the people closest to us – our spouses, family members and employees. This is unfortunate because these are the people we should treat with the most respect and gratitude. Yet they are the ones who take the brunt of our feelings in the heat of the moment.
Living in a pandemic has only exacerbated stress in our lives. Add in the contentious topics like vaccines, masking and politics, and it's no wonder why practicing acts of kindness isn't on the top of our list nowadays. But instead of challenging others, dismissing their thoughts and belittling them, seek to understand them and their viewpoint. Cultivating kindness starts with each one of us and how we handle our reactions to everyday life.
Expressing kindness can come in many formats, and sometimes the littlest gesture can have the greatest impact. Consider ways how you can incorporate small changes in your routine to spread compassion, appreciation and generosity to others.
Here are 10 simple techniques to add kindness to your day:
Acknowledge someone who makes your life easier. Maybe it is your parents who help watch your kids or someone who holds the door for you at the grocery store. Say thank you and mean it. Recognize the value others offer you and appreciate their generosity.


Share a treat. Bringing a coffee, milkshake or candy bar will brighten anyone's day. Maybe it is for a specific reason, or maybe it's "just because."


Send a photo to older relatives. You may post updates to Facebook and Instagram about yourself, your family and what's going on at the farm, but what about older family members who don't have social media? A text message with a photo or snail-mailing a printed photo will probably be their highlight of the week.


Donate to a cause that matters to you. Find something to support and donate, even just a small amount. Do it for yourself and not for recognition from others.


Practice patience and seek to understand. It's easy to lose our cool with someone we don't see eye-to-eye with. Instead of jumping to conclusions and arguing, ask questions to understand their concerns. Oftentimes, fears are the underlying reasons we react to issues in certain ways.


Send a video, podcast or article to a friend. Did you watch, listen or read something someone else would enjoy? Share it, along with a personal message. Let them know you are thinking of them.


Give someone a break, literally. Let an employee leave 15 minutes early one day or give your spouse a pass on some of their normal household or farm duties. This small gesture can pay big dividends, and the person will come back the next day even more committed to you or your business.


Volunteer. Whether it is formally through an organization or simply picking up trash on your rural road, do something to make a difference in our world.


Pick up the phone. Skip texting and call someone you haven't spoken to in a long time. If they can't talk at that moment, make a time to chat in the coming days. The power of a phone call can go a long way.


Smile. Be aware of your energy toward others. A genuine smile will not only lift the other person's spirits but also your own.
There's no doubt life is hard, and some days (or weeks) are harder than others, especially with farming. It's easy to think of all of the things that can go wrong, such as too much or too little rain, inability to find labour and more.
Yet there is much all of us can be grateful for. Count your blessings, act with compassion, and embrace the impact you can have on others.
As the popular Thomas Rhett song shares, "In a world full of hate, be a light."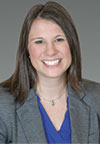 Raechel Kilgore Sattazahn

Dairy Producer
Womelsdorf, Pennsylvania