Holstein Canada and Lactanet, with support from Zoetis, launched Compass in November 2019. It is an online software system that aims to help producers navigate their herd's genetics.
This tool is a central location to view genetic data and phenotypic data, if available. Producers can input their herd data to the online system via their milk recording number, the last test date or a Holstein Canada account number.
What is the cost?
It is a free online software system available to all Canadian producers. It is mobile-friendly and works similar to other online software.
Is Compass available to all breeds?
It is available to all breeds. As not all breeds have the same genotyping services or indexes, the features may differ from breed to breed. Table 1 lists the features available for each breed.
As we learn more about the colour breeds' genetics, we hope to be able to offer the full capacity to all official dairy breeds. As the industry changes, the features within the software will adapt to meet the needs of Canadian dairy producers.
Is it a full mating program?
No, it will not tell producers which bulls to breed to which females. However, the aim of the software is to help producers continue genetic progress within the herd by suggesting which replacements to keep and which to breed to different types of semen (sexed, conventional or beef). The system shows producers which females to breed to beef, which to cull, which are the best candidates for genomic testing, which to use as embryo transfer (ET) carriers and which to use as donors.
The program provides bull lists based on the index and the producer's preferences, allowing them to select five traits on which they'd like to focus on top of their index. However, it will not suggest specific mating decisions.
What makes this system unique from other genetic programs?
It is an unbiased source of information and breeding suggestions, using data from Holstein Canada and Lactanet to help producers make breeding decisions for the future. A feature unique to this system is its monthly unofficial proof releases, which producers can use to make faster and more accurate breeding decisions. It allows producers to personalize their breeding strategy and bull list, and it gives a bird's-eye view into their genetic input costs in dollars and cents, as well as those same returns.
How do I use the bull list?
The bull list includes all active bulls over 11 months old. The list is split into three subcategories: Genomic, Proven and MACE.
Although all bulls are genomically tested, genomic bulls are those that have been genotyped but do not have a daughter-proven status. Proven bull requirements vary within the breed. See Table 2 for the proven requirements for all breeds.
In Compass, "proven" refers to bulls that have an official LPI and Pro$; this means they have at least a production and type proof. MACE bulls are those on the international list that are available in Canada and have been microsatellite-tested.
The bull list is unbiased and can be filtered by the A.I. company, as well as carriers of undesirable and desired traits. The columns available in the bull list are the traits selected in the national index. As this is not a full mating program, it will not suggest direct mating, but this is a great tool to select which bulls to use in the herd.
Visit Compass Canada to create an account or for more information.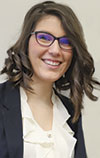 Michelle Linington

Holstein Canada