With hundreds of visits to all sizes and types of dairy farms under their belts, a panel of calf care specialists recently addressed the question, "What is your opinion of automatic calf feeders?"
Andrew Beckel, Golden Calf Company; Amanda Kerr, Grober Nutrition; Skip Wiswell, Agri-Plastics; and Dr. Jodi Wallace, Ormstown Veterinary Hospital and Anderson Farms, spoke of the benefits and pitfalls of this emerging feeding style during an open presentation on April 6 at the Canadian Dairy XPO in Stratford, Ontario.
One of the main reasons dairy producers choose to install automated feeding is to save time. Since the automated feeder is capable of mixing, feeding and cleaning, it removes those steps when compared with a bottle or pail feeding system.
"We've done a lot of work with automatic calf feeders. They're a wonderful, wonderful time saver," Kerr said, noting that time saved should not be mistaken as "free" time. It is better to reallocate it towards management activities like climbing in the pen to check the bedding and ventilation. It can be also used for observing calves for signs of illness and record keeping.
"I think a lot of times [automated feeders] are sold on how much management they are going to save you or the time they are going to save you," Wiswell said. "There's only 24 hours in a day, and we try to schedule 26 hours of work in a day. All of a sudden, the calves will get the short end of the stick. When you've got a big group like that, you're going to end up with a train wreck real quick."
Beckel agreed that these feeders offer more in how time is spent than how it is saved. He said, "It gives you flexibility; that's what it gives you as a producer or as an employee. It's not a substitute [for raising calves]."
One way to spend the saved time is in analyzing the data generated by automated feeders. This is an area Beckel said is underutilized on many of the farms he has visited.
"To me, that's a sad thing to hear," he said. "It could be a really good management tool as a precursor to an onset of illness."
According to Kerr, data on drinking speed and volume per day can be used as a prophecy to detect early signs of illness, but you have to learn how to use it.
"It is a lot of data, and it can be overwhelming at first, but with patience and practice it can be very valuable," she said.
For instance, Wallace has found drinking speed to be a better indicator for illness than volume consumed. When a calf's drinking speed slows, this veterinarian recommended the animal be flagged for observation.
Not being able to see each calf's hunger reflex, as witnessed in a bottle-fed or bucket-fed operation, is a downfall to automated feeding and why the computer reports can be useful. However, data cannot fully replace using a good keen eye when looking after calves.
It takes a good calf raiser to use the data as a tool, but also employ their own diagnostic skills to identify animals that require treatment.
"We have to be willing to be taught or educated to be able to identify if the calf really is about to get sick so we're not treating animals ahead of schedule," Beckel said. "That's a loss of money because it's expensive and it's labour intensive."
The panelists agreed that calves are social creatures and group automated feeding systems allow calves the opportunity to express social behaviour. However, that social system can bring stress depending on the size of pen and number of nipples offered.
Beckel pointed out that calves in group pens typically like to eat in groups as well. He has seen five or six calves get up at once to go to feed, which can be a problem in systems with only one or two nipples per pen.
"That isn't enough nipple space for those animals," he said. "There should be a 90 percent chance that they can actually grab hold of a teat and get what they need."
Wallace added this scenario results in stress on the system and stress on the calves because when they don't eat, they get anxious and are at greater risk of illness.
These feeding systems can reduce other types of stress for calves. The automated feeder usually allows calves to consume more milk each day, which cuts back on hunger stress. It also implements a step-down weaning program to eliminate stress during weaning.
One of the most important things the specialists mentioned is to consider all of the items that are associated with the feeding systems.
Kerr suggested that, if you're thinking about an automated feeding system, to do your homework – ask fellow producers, look at different companies and find out what service is like in your area.
"Sometimes we're too hasty to put in the feeder that we forget about the ventilation; we forget about the bedding and how are we going to drain it; how are we going to clean it – all of the other housing factors that are around the robot that sometimes fail us," Wallace said.
She added the feeder's washing system should also not be forgotten. Even though it is equipped with a self-cleaning function, the units need to be cleaned and the nipples washed or changed frequently.
"As long as you can understand the limitations and control them, [automated feeders] are great thing," Wallace said.
Automated feeding systems are a new way of feeding calves, but they don't fully replace the need for a calf raiser with a good keen eye for disease detection.
Click here to read the panelists' answers to additional questions on calf and heifer raising.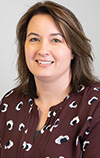 Karen Lee

Editor
Progressive Dairyman
PHOTO: Automated calf feeders are viable options for dairy farms, but they also come with some challenges that should be addressed. Photo by Karen Lee.
Before commenting on our articles, please note our Terms for Commenting.