"The dairy producer plays a critical role in veal production," said Dr. Jessica Pempek, animal welfare specialist and assistant professor at Ohio State University.
"Establishing the foundation for superior calf health and performance really begins on the dairy farm at birth."
In the "Veal farm-to-fork" webinar presented by the Beef Checkoff on Aug. 4, Pempek was joined by Dale Bakke, Chris Landwehr and Janeal Yancey. The four presenters covered an all-encompassing webinar of the veal industry, which focused on the role of dairy farms in the health of veal calves and common veal practices.
Pempek, in particular, encouraged dairy producers to take steps toward improving the health of dairy calves that move on to become milk-fed veal calves. She elaborated that the first few hours and days after a calf is born are decidedly the most important in setting a calf up for strong health and productivity for life. A myriad of factors goes into ensuring calves are well supported from a health standpoint, and Pempek discussed some of the most important health decisions as they relate to the needs of veal calves.
Feed colostrum
Beginning with colostrum management, Pempek cited the abundance of research behind the need for proper colostrum management. As a fetus in utero, the calf receives no transfer of protective immunity from the dam, meaning calves are born with almost no immunity. In order to develop adequate immunity, calves rely on maternal antibodies found in colostrum. Colostrum will provide calves with immunity for their first few weeks of life but also for the long term.
As a best practice, Pempek recommended calves be fed 4 to 5 litres of good-quality colostrum within six hours of birth. The colostrum should be fed over one or two feedings. Following colostrum best practice can reduce the risk of disease and mortality and decrease antibiotic use as a result of lower disease incidence.
Pempek explained that good colostrum management is lacking in veal calves compared with dairy heifer calves, as a national survey found that male calves were more likely to experience delayed colostrum feeding and received a lower total volume of colostrum. "One out of every five calves arrived at the veal grower without receiving adequate colostrum," Pempek explained.
Once colostrum management has been assured, producers should maintain a clean, dry maternity area for calves. The calves should have access to fresh bedding, and livestock and transport trailers should be cleaned thoroughly and disinfected. Pempek noted that some research exists to indicate that calves may pick up diseases in as little as 30 minutes. Thus, maintaining a clean and sanitized environment starting from birth is critical.
Dip navels
Landwehr, a veal grower from Wisconsin, spent his portion of the webinar discussing how milk-fed veal calves are typically raised. He explained how the calves are housed individually at first to avoid cross-suckling of navels. This concept was later echoed by Pempek, who noted the importance of dipping calves' navels before they leave the dairy farm.
A navel dip will help prevent navel infections, which can be painful and lead to sepsis or joint infections. Calves found to have moderate to severe navel infections are estimated to spend about 90 fewer minutes lying down than their healthy counterparts. Navel infections are bacterial in nature and therefore require antibiotic treatment. As many as one in four calves are thought to arrive at the veal farm with navel infections.
To address concerns over navel infections, calves should receive a 7% iodine tincture or chlorhexidine and alcohol solution directly after birth. "We should take every opportunity to prevent future infection," Pempek said.
In the event of a navel infection, or a bacterial infection in general, timely antibiotic treatment may be necessary. Treatment decisions should be discussed with a veterinarian, and if antibiotics are required, their use and administration to calves should be recorded. Recording treatments helps veal growers understand the calf's history and can allow them to properly observe antibiotic withdrawal times. Knowing the antibiotic withdrawal time and the date of antibiotic administration is especially important with respect to bob veal calves, as they go to market sooner than milk-fed veal calves.
Prepare for transport
Once calves are ready to leave the dairy, they should be assessed to determine their fitness for transport. Prior to selling calves, individual health assessments should be made to look for signs of disease and depression. Sick or injured calves should absolutely not be transported, as their health may deteriorate, especially if being transported for a long distance. On average, veal calves are sold at 7 days old, meaning they have limited immunity, as discussed above.
If calves are deemed healthy enough to be transported, they should be well prepared for their journey.
Pempek stressed the importance of prepping calves for transport, particularly for journeys exceeding 24 hours. Pempek recommended calves be fed milk within hours of transport. She noted they should also be given a combination of electrolytes, dextrose and water in an effort to reduce the potential for dehydration during travel. Dehydration is a large concern, as it is estimated that more than one-third of calves arrive at the veal farm dehydrated.
Taking a few small steps at the dairy level can go a long way toward veal calf well-being and start of life health.
PHOTO: One out of every five calves does not receive adequate colostrum before arriving at the veal grower. To avoid this, dairy producers should feed calves 4 to 5 litres of colostrum within six hours of birth. Photo courtesy of the North American Meat Institute on behalf of the Beef Checkoff.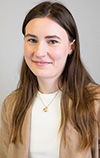 Emma Ohirko

Editor
Progressive Dairy