I doubt that anyone would deny we are living in an age of disruption. Successful dairy managers do not just "respond" to the current situation; they anticipate the impact of future "disruptors" and are proactive. Strict adherence to what has been successful in the past may mean "failure" in the future.
What are the potential disruptors facing our industry now and in the future? Social factors, labour availability, technology and the environment are likely ones on everyone's radar. Now, how do these disruptors apply to the calf program on our dairies? The impact of many of these factors is not direct, but they are interrelated. How do we anticipate their impact and respond in a positive manner?
Social factors
This is an overly broad term that can be viewed from many different perspectives. Let's view social factors from the animal perspective. Although raising calves individually in calf hutches is considered the "gold" standard by many, research and experience by some progressive farms have shown that calves raised in pairs or groups adapt to weaning more easily and react more positively to novel situations such as robotic milking systems, pen moves, new feed or new people.
Group housing also can create a more appealing sight for our consumers to see a group of calves playing with each other (when professionally managed) rather than calves housed in "cramped" hutch housing.
These new paired- or group-housing systems are gaining favour due to the opportunity to provide a more appealing environment for the growth and welfare of calves.
Labour availability
It is becoming increasingly apparent that the ability to attract and retain labour is a major concern. Feeding and caring for calves in individual hutch systems is very labour intensive and characterized by excessive repetitive chores. In addition, traditional hutch systems expose workers to extremes in weather that are not conducive to worker comfort, efficiency and effectiveness.
Granted, newer confinement systems involve major capital investment, but they can be offset by retention of personnel skilled in calf care rather than "workers" employed to perform menial tasks.
Environment
"Sustainability" is a popular buzzword used by many. As an industry, we must be good stewards of the environment, which means capturing nutrients excreted by our animals and utilizing them efficiently and effectively.
Unfortunately, it has not been a priority to capture nutrients from the calf or heifer enterprise, particularly from extensive, individual-calf hutch systems.
However, it is becoming apparent that the impact of the calf program must be included in future nutrient management plans for the farm. It is time for the industry to address how to effectively collect and utilize the effluent from the calf program.
Technology
The generation and utilization of data for dairy herd management has grown exponentially over the years and will continue to do so. We see data used less from a historical and benchmarking perspective and more to predict future performance and profitability. However, this has not been the case with calf management. Most records, such as identification and mortality, are largely historical.
Better use of performance data may be the most important next step for the calf enterprise, regardless of the system used. Animal behaviour measures such as milk intake, rate of drinking, activity and bodyweight gain are valuable in predicting future performance as replacement heifers and after calving as cows.
New robotic calf-feeding systems are available that provide this data in a form to proactively manage calves with access by calf-care personnel, herd managers, veterinarians and consultants via the "cloud."
Regardless of the feeding system, calf management record systems need to evolve to enable their use in more proactive decision-making.
Raise your own or custom-raise calves
Raising one's own calves or exporting them from the farm is a consideration for many dairies. This is a complex issue. From an economic and nutrient-management perspective, it might be apparent that having calves custom raised by others is a logical decision. Current land resources may not support dairy herd expansion should calves and replacement heifers continue to reside on the farm. In addition, there might not be interest or the presence of expertise on the farm to successfully manage the calf enterprise to result in the desired supply of replacements to enter the herd and achieve their genetic potential for future performance.
However, you must consider the risks involved in having calves custom raised. On some custom-raising facilities, animals are mixed with those from many source farms that may not adhere to the same level of management standards or biosecurity as your farm.
Transportation of young calves to the raiser is another risk. How far are calves shipped from the source farm to the custom raiser? It is not uncommon for calves less than seven days old to endure a "haul" of more than eight hours without food or water in all types of weather.
The best custom raisers have extremely well-designed systems and protocols to minimize risks involved in transporting very young calves to a distant location and can document their high level of success with low mortality and morbidity and excellent growth.
However, perceptions by consumers are important, and the impact of transporting calves on their "welfare" is challenging to defend. Legislation has already been passed in some countries that defines the age and conditions of animal transportation.
With this in mind, what's next for your calf program? It is obvious that this discussion needs to occur and occupy a position of importance for the future success of the dairy. It involves evaluating the unique circumstances and resources of one's dairy, responding proactively and becoming a positive factor in the future of the dairy business.
Getty Images.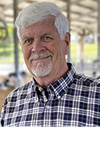 Bob James

Down Home Heifer Solutions