As harvest winds down and winter sets in, now is the ideal time to inspect your equipment and identify any parts requiring repair or replacement. Proactive maintenance on your equipment will end up saving you time, money and a headache during the next harvest.
Not only that, but your machine will run longer and more efficiently when proper maintenance is performed.
Before you start turning wrenches, it is imperative to know your machine's needs. Read the owner's manual and get familiar with your piece of equipment to determine what kind of maintenance is required.
Wash it off
Performing maintenance on your equipment can be difficult when it's covered in crop and dirt, so start with a thorough cleaning. The longer mud and dirt sit on the machine, the harder it is to get off, so regular cleanings throughout the year are recommended. Additionally, dirt and debris attract mice, which can chew on wiring and cause electrical issues. A leaf blower can be helpful during this step, but you may also need to pull off mud and crop from your machinery using your hands. After washing, it is important to grease the machine to push water out of the bearings so the water does not expand in the bearing over winter.
Do a walk-around
Once the machine is clean, walk around your equipment for a visual inspection. During this step, it is recommended to take note of any missing or loose parts, the condition of the tires and any noticeable leaks. From here, equipment owners can create a list of items to work on while their equipment is in storage or for your dealer to fix.
Grease it up and check the oil
After inspection, ensure all the barriers are filled with grease; then, check oil levels. Always be sure to fill to the correct level. Too much oil tends to create heat and cause issues down the road. Additionally, ensure the oil and grease being used are of high quality. A quality oil and grease will keep your machinery running longer.
Inspect the radiator
Spend some time cleaning the radiator using a pressure washer. Late in the season when temperatures decrease, many equipment owners forget about the hot days when coolant temperatures were high. Because of this, the radiator will need a thorough cleaning.
Also, inspect the radiator hose to determine if it needs to be replaced. Radiator hoses should be replaced every two years. Losing a radiator – resulting in dumped coolant – is expensive. Check the hoses to ensure they're in proper shape without cracks or bulges in them.
Keep an eye on your battery
It's no secret there are more and more electronic components to your machine. Equipment owners should typically charge their battery every six weeks during the off-season to maintain a good charge. Also, consider installing a battery maintainer to keep that charge throughout the off-season. Those in colder climates should be extra mindful of not drawing the battery down.
Think back on old problems
Before wrapping up your maintenance inspection, think about any issues you ran into during the season. Are there any areas that experienced leaks? Is there something that didn't seem to work right? Experts recommend writing these notes down and taking the proper steps to prevent these problems from reoccurring in the next season. Don't ignore old problems.
Get your equipment in early
While sticking to a schedule and getting your equipment in early is always important, it may be even more important this year. Due to ongoing issues related to COVID-19, the supply chain has been strained, leading to back-ordered parts and longer waiting times. Automatically assume there will be longer wait times and get your equipment in sooner rather than later. You never want to be waiting on parts when you need it back in the field.
Many dealerships offer service inspection packages where trained technicians thoroughly inspect your machine during the off-season and perform regular maintenance. These trained technicians can help you determine if any components of the machine are worn, which ones should be replaced and detect possible failures before they occur.
Staying on top of your machine's maintenance can be the difference between downtime and cutting time during harvest. For any questions on how to keep your equipment running strong, visit your local dealer.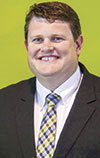 Matt Jaynes

Product Manager
CLAAS