On a September afternoon in 2017, Peter Ruiter's lunch break was interrupted by a neighbour who brought news no farm ever wants to hear: His barn had caught fire and his cows were in trouble.
Within minutes, Ruiter was grappling with the reality that neither his barn nor his cows would survive the blaze. He lost 80 cows in the barn fire that took down the 125-year-old facility at the centre of his life, Blackrapids Farm, in Nepean, Ontario.
As a lifelong dairy farmer, Ruiter's love for the industry is so deep-rooted that even when rocked by the immense tragedy a barn fire brings, he was not ready to give up on his passion. "My heart said I want to get back into it," Ruiter recalls.
Despite the will of his heart, Ruiter says the decision to resurrect his farming business also had to make sense from a financial and logistical standpoint, so he set out to build a facility to meet his goal of maximizing labour efficiency.
A little over a year later, on Dec. 13, 2018, Ruiter was once again milking cows.
Blackrapids' newly erected barn is home to 53 milking cows and one milking robot, with room for a second should the farm choose to expand in the future. "Pretty well everything I've done in the barn has been everything I could to save labour," he says.
Choosing a robotic milking system was key to Ruiter's development of a labour-efficient operation. After deciding on a milking system, he moved his search to find the next key component in creating a low-labour barn, his feeding system. He explored common options like TMR mixers and feed pushers, but ultimately decided they were not optimal. "As I was investigating more and more, it became a no-brainer to actually put in an automatic feeding system," he says.
When selecting an automatic feeding system, Ruiter needed the system to meet a few criteria; he was looking for something minimally disruptive with a high level of reliability. He chose Lely's Vector automatic feeding system because it met these criteria and offered a level of simplicity and a lack of iron. The feeding system is battery-powered and works without the use of rails.
So far, Ruiter is pleased with his choice. He says the automatic feeding system has been the biggest time-saving investment in his new barn. "I think people underestimate how much time they take to feed the cows. I would say my automatic feeder probably saves me more time than my robotic milker," Ruiter explains.
The farm also relies on an automatic calf feeder to do away with the need for a rigid schedule requiring set times to be in the barn to feed the calves.
The facility at Blackrapids Farm is unique in that all the animals, from birth until they leave the farm, reside under the same roof. The decision to house animals of all life stages in one facility was rooted in the labour-saving advantages it provides. "One man can easily move the cattle from one pen to the next, or from one pen to a maternity pen, from a dry cow spot to a maternity pen, from a special needs pen to a maternity pen; it's just a matter of opening and closing gates. That was a priority of mine right from the start," Ruiter says.
The facility uses very few temporary gates; most are welded in place to facilitate an ease of movement between areas of the barn. Ruiter praises the barn's robust system of swinging gates as its best feature. He notes the three-way gate near the robotic milking system is a highlight of the facility's labour-saving innovations. With a simple opening or closing of the three-way gate, he can move cows between the milking area, dry cow pens and calving area, requiring virtually zero labour.
As all the cows are housed under the same roof, Ruiter has designed several different areas to accommodate different groups of animals within his herd. He has a heifer-raising side with nine pens, each with the capacity to house nine animals grouped within a three-month age range. Another 15-by-30-foot-wide pen houses maternity cows, while another pen has space for 12 dry cows and a fourth area exists to house up to seven special needs cows.
Despite the new innovations and features of his new facility, Ruiter says production levels have not increased compared to the levels he observed in his former tiestall barn. After the barn fire devastated his herd, Ruiter lost all genetic progress, but he expects to see production increase naturally with ongoing genetic improvements to his new herd. He now looks beyond production levels to measure his herd's success.
Initially, lameness rates in the new barn were troublesome, so Ruiter took action to control lameness and improve hoof health. The farm's current hoof health protocols involve hoof trims for half the herd every two months, alternating which cows are trimmed each time, in addition to the administration of a footbath two or three times per week. Ruiter is still in search of the right footbath solution formula, but he says the practice helps even without the perfect product.
Every cow sees their hooves tended to at least once every four months, something Ruiter says has helped make lameness issues scarce.
Satisfied with his improvements to hoof health, Ruiter has shifted his focus towards increasing the volume of fat produced per cow. He says reducing lameness is a piece of this puzzle, but a new nutritionist and a goldilocks diet with higher protein and lower energy levels for his dry cows are also part of the journey towards higher kilograms of fat produced per cow.
Reflecting on the current success of his new "one-man show" facility, Ruiter says he is very happy with his barn. "I would build it over again," he proclaims.
However, looking to emerging trends in consumer demand and due to the farm's proximity to metropolitan Ottawa, Ruiter says including an option for pasture access would have been beneficial during the barn's conception.
He envisions the growth of his operation coming from increased consumer interaction through an expansion into milk processing. Ruiter, who is more than willing to share his wisdom and knowledge of the dairy industry with consumers, reflects that "Pre-COVID, we got lots of city visitors, and they really have no understanding of where agriculture is going. They still assume we milk cows by hand – and for them to come into the barn and see how far technology has come on the farm, they are amazed."
"I think in the future if I can tap into [consumer nostalgia] – but with technology – I can try to build something to sell my product directly to consumers. I think people would welcome that. But for now, I have to pay down more debt before I tackle more," he adds.
As for his advice to other producers, Ruiter has proved designing a barn to be operated by one person is possible and profitable with the right technology, and he advises visiting other farms to maximize the likelihood of a successful barn design. "I probably looked at about 50 to 60 farms before settling on my design, and almost all the barns were multigenerational with a father, son, mom, wife kind of operation, or they used hired labor. They were larger-sized farms than I have, so I had to find farms my size that I could work financially because, at the end of the day, you have to be able to pay for it all," he says.
PHOTO 1: Following a barn fire in 2017, one Ontario dairy rebuilt a unique facility designed to be operated and managed by a single person.
PHOTO 2: At Blackrapids Farm, an automatic feeding system is integral to the time and labour-saving innovations that help Peter Ruiter manage his herd without hired labour.
PHOTO 3: To minimize labour requirements, Peter Ruiter installed swinging gates throughout his barn, allowing him to move his animals between pens with ease. Photos provided by Peter Ruiter.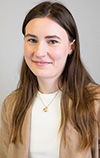 Emma Ohirko

Editor
Progressive Dairy