Animal welfare concerns have not disappeared and will continue to be a driving factor for decisions made in local and global markets and on the farm.
Three trusted experts in the dairy industry, who have worked closely together on animal welfare issues for almost 20 years, are keeping a close eye on hot-button topics and why some practices are failing to address public concern.
"We are going to challenge you with some of the things that we think are coming down the pipeline," explained Dr. Nigel Cook as he introduced the topic at the PDPW Business Conference held in March in Wisconsin.
Cook is a professor in food animal production medicine at the University of Wisconsin – Madison School of Veterinary Medicine. He said, "We understand that farmers just want to be left alone, to just get on with the job of farming. It's difficult enough. But you can't be left alone because you want to sell a food to consumers who buy it."
For the most part, dairying in North America operates under an umbrella of public trust, which is faith by consumers that the industry is doing the right thing.
Dr. Marina (Nina) von Keyserlingk explained that since most of society is largely unaware of how day-to-day business is done on a farm, they trust that farmers will self-regulate themselves in a way that follows society's values.
"Society also says that if the food production sectors fail to self-regulate themselves properly, then society will intervene and regulate the industry, despite the lack of understanding," added von Keyserlingk, professor at the University of British Columbia, where she co-directs the animal welfare program.
This distrust started unfolding in other parts of the world 25 years ago, and the public has intervened in Europe and Scandinavia with laws put in place to govern the housing and management of farm animals.
"Our ultimate goal is to try to move the industry forward," she said. That can be done by staying in front of the issues society is concerned about. However, those "issues are getting harder and harder to deal with" and are "going to make some of you very wiggly and very uncomfortable."
Hot-button topics
Grazing and outdoor access is the first topic the speakers addressed. More common outside of North America, places like South America, New Zealand and Australia have a lot of grazing-based systems. It is mandated in some milk markets, and others are selling "free-range milk" at a premium.
In a survey conducted by von Keyserlingk and her team, 90% of the consumer responses in the U.S. said dairy cows should be provided access to pasture.
Another concern of consumers is restriction of movement. This has been seen in other industries with the reaction to sows in gestation stalls and hens in cages. For dairy, it brings up the issue of tiestalls, which are already planned to be phased out in Norway, Sweden, Denmark and Germany.
The number of tiestall operations in the U.S. has been declining, but in Canada tiestalls are in use on 73% of farms.
In another survey, a Ph.D. student working with von Keyserlingk asked consumers what they thought of cows being tied up for varying amounts of time with access to food and water.
Only 2% of the respondents had ever heard about tiestalls, and 65% said if given the chance to vote they would be in favour of banning tiestalls, and even more would ban tiestalls when cows are tied up for more than six hours a day.
Other countries have passed laws requiring pain control for dehorning. Canada's latest draft code requires both anesthetic and analgesic pain medication for dehorning, while the U.S. FARM program has recommended but not required the use of local anesthetic.
When it comes to group housing of calves, the topic has been postponed for Canada's dairy code until 2033. The Red Tractor program in the UK does not require social housing for calves, but some retailers have started to mandate it for the milk they purchase.
Another processor requirement in the UK is that farms cannot euthanize a healthy calf. In Australia, banks are threatening not to lend to farms that euthanize calves, while in Denmark it is illegal to kill a healthy calf.
The separation of cow and calf is also a growing concern.
"We have hundreds and hundreds of farms in Europe that are transitioning to cow-calf contact, and they're doing so because of mass criticism of the industry," von Keyserlingk said.
A survey in the U.S. showed consumers reject any scenario (separated with individual housing, separated with group or pair housing, or raised by a foster cow) that did not involve full contact between cow and calf.
"I'm not saying you have to have cow-calf contact systems tomorrow, but you have to be prepared for the discussions," von Keyserlingk said.
"From my perspective, the conversations are going to get harder and harder," she added.
Some practices like dehorning without pain mediation and tail docking can be changed easier than the others.
"The challenges coming – access to pasture, cow-calf separation, phasing out of tiestalls – these require huge infrastructural change and huge costs that you can't afford to get it wrong," she said.
Maintain trust
Being open to change seems to be a way to maintain trust and acceptance by consumers. These experts are finding that methods like education and assurance programs don't always work.
Trying to educate has its challenges. For one, it is difficult to reach the vast number of people who have no connection to a farm. Often, farmers and the industry try to educate about why we do what we do, but it does not address the consumer's primary concern.
For example, Cook said, "The restriction of movement is the discussion, and building better tiestalls and improving cow comfort around them doesn't resolve that."
Sometimes when addressing a single topic, we bring up other concerning information that they hadn't considered.
"We actually showed with education an increase in concern because they found out about all these things they didn't know about, and that made them even wigglier," said Dr. Jennifer Walker, director of Quality and Care at Danone North America.
The industry uses assurance and/or audit programs to maintain consumer trust. Variations of these exist as national programs in several countries and have been largely driven by farmers and groups representing farmers.
"What we tend to see is ... we don't set the bar very high for a standard to meet," Walker said. "It doesn't really meet the needs or expectations of the consumers and customers we serve."
Companies, like Danone, that are closer to the point of sale are taking it upon themselves to figure out where to set the bar to meet consumer expectations, as well as how to demonstrate progress.
"The reality is: Consumers aren't going to take our word that, once every three years or once every year, if we go out and check a box that everything's fine. They're really looking for evidence of progress," she said.
Outcome-based programs that score hock lesions, lameness, etc., need a show of improvement in these areas to assure the public that welfare on farms is getting better.
"If our outcome-based programs don't show continuous improvement, then it starts to question the whole process," Cook said.
When that trust erodes, it opens the door to a process-oriented approach that will dictate farm processes like outdoor access, no tiestall housing, cow-calf contact, etc.
The loss of trust can also result in loss of market. "If [consumers are] uncomfortable, the issue is no longer 'Are they going to pay more for you to change?' The issue the dairy industry has now is whether you're going to keep your client," von Keyserlingk said.
She mentioned an approach by Dairy Australia. They released front-facing documents that acknowledge consumer concern over a couple of hot-button issues and that they support the development of more profitable and sustainable pathways.
"They're not showing that they've changed, but they've shown intent to change," she said.
Animal welfare will continue to be surrounded by difficult discussions across the world. It is important to be prepared, to join in and consider what changes might lie ahead.
"In order to move forward, you've got to be open to discussions. The thoughtful person on the street doesn't expect you to change overnight, but they expect you to get better every day," von Keyserlingk said.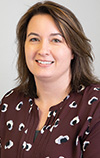 Karen Lee

Editor
Progressive Dairy