For the first time in over 40 years, updates to animal transport regulations were planned to take effect in February. However, an amendment provided for a two-year grace period until Feb. 20, 2022.
"That's to accommodate the research that's currently happening," said Karen Schwartzkopf-Genswein, a senior scientist with Agriculture and Agri-Food Canada in Lethbridge, Alberta.
At the Western Canadian Dairy Seminar in March, she explained it is important to base the regulations on science and not public perception.
Schwartzkopf-Genswein has been working on the topic of animal transportation, primarily with beef cattle, with her research group for the past 15 years. They are currently halfway through a four-year study looking at the combined effects of transport distance and rest periods on cattle.
Transport is a necessary part of the dairy industry, primarily for marketing bull calves and cull cows. However, these groups are typically the most vulnerable to transport.
"Their health tends to be more compromised, particularly with the cull cows, and their ability to cope with stress is reduced," Schwartzkopf-Genswein said.
There are numerous animal and non-animal factors affecting welfare during transport. Animal factors include age, health, body condition score, experience and temperament. Non-animal factors are handling; loading density; mixing; trailer environment; transport duration; feed, water and rest intervals; and driver training and experience.
Age
Studies show unweaned calves are more prone to transport stress, mortality and morbidity than older cattle. Young calves have a reduced ability to thermoregulate, minimal fat reserves to draw on during long transport and an immature immune system.
Calves are subject to additional stress when weaned at the time of transport, as well as forced commingling, which also increases their exposure to pathogens.
Cull cows
The formal definition of culling ensures cows are not retained beyond their productive healthy life. Following that definition should eliminate the shipment of unfit cattle and the food safety issues that go with it.
However, 2018 data from the Canadian Dairy Information Centre (CDIC) had a reported cull rate of 31.6%. Of the total reasons for culling, almost 17% were due to foot and leg problems, illness, injury, milk fever, arthritis and pneumonia.
"Those all fit within the compromised and unfit category. If we really follow the definition for culling, we failed. We failed if we still see those animals coming into our system with those conditions," she said.
Transport duration
One Canadian study found cows spent around 80 hours in the marketing system before they were slaughtered. Approximately 43% were in transit for four to six days, and 4% spent seven to nine days in the system.
It also showed a 0.4 reduction in body condition score from the time cows left the farm to the time of slaughter. In this study, there was no change in the prevalence of lameness, but 33% had an increase in milk accumulation and udder inflammation.
The transport duration or continuum is not just the time it takes to get from point A to point B. It includes the time it takes to load the animals, driving, stationary periods – such as rest stops for the driver, traffic and border crossing delays, and waiting to offload.
"We know there is a strong association between increased transport duration and decreased welfare indicators," Schwartzkopf-Genswein said.
Most weight loss occurs in the first 12 hours of transport and is attributed to urination, defecation and respiration. At greater than 12 hours, fat mobilization occurs to provide the animal energy for the remainder of the trip. Due to their low fat reserves, cull cows and calves are most affected in longer transport scenarios.
Data she worked with shows loss of bodyweight begins to plateau at 30 hours. At the same time, the probability of the animal being totally compromised (dead, down or lame) starts to skyrocket.
Some ways to mitigate this issue is to send cows directly to slaughter so they get to their final destination faster, offer cattle feed and water throughout the trip, and provide feed – in addition to water – at auction sites.
Rest intervals
Rest times provide an opportunity for the animal to lie down and consume feed and water. Several studies done in dairy calves suggest a rest would benefit calves less than 30 days old.
Some studies noted more lying time after increased time on trucks, which is an indicator of fatigue.
After taking a ride on a livestock trailer herself, Schwartzkopf-Genswein said it took a lot of energy to maintain balance.
Noting a lack of studies on fatigue and transport of cull cows, she said, "We expect that we would see similar or more severe effects than other cattle, mostly because of their health issues. They do have a higher prevalence and incidence of lameness."
Cull cows transported for seven to 24 hours to slaughter would rarely stand voluntarily for that length of time when in their normal environment.
Environmental conditions
Transport vehicles in North America are not climate controlled, and temperatures can range from -42ºC to 45ºC.
Inside the trailer, temperature and humidity are managed by passive ventilation. Loading density, use of bedding, boarding, animal respiration, sweat and excretions can all affect the trailer microclimate.
Research by Schwartzkopf-Genswein and her team on the effect of temperature on shrink and welfare outcomes shows around 15ºC to 20ºC is where shrink increases. Poor welfare outcomes are greater at temperatures below -15ºC and above 15ºC.
They looked at the pattern of holes on the exterior trailer walls and learned there is a difference in air flow for different designs.
"I think there's a lot more work that can be done in terms of how we can have better climate control within those trailers," she said.
After sharing early results from her current project on rest intervals, Schwartzkopf-Genswein said, "I believe these regulations should be based by animal type and not necessarily just as a blanket across all different types of animals."
The research will continue to help find answers and better inform transport regulations as they are implemented over the next two years.
"I think there's lots of pressure from the public for these things to change," she said. "We just need to make sure we're changing them in the right way for the cattle."
PHOTO: Research studies from around the world show cattle experience behavioural and physiological changes when transported. Staff photo.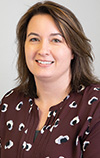 Karen Lee

Editor
Progressive Dairy