A new brand of milk has entered the Canadian market. As fairlife awaits the completion of an $85 million processing plant in Ontario, it is establishing the criteria to source Canadian milk.
Carolyn Novick, director of fairlife for The Minute Maid Company Inc., Coca-Cola Limited (CCL), spoke at the 2019 South Western Ontario Dairy Symposium (SWOD) in Woodstock, Ontario, about the brand, its vision and what it means for the Canadian dairy industry and dairy producers alike.
Joined by fairlife Vice President of Communications Anders Porter and Jacqueline McCloskey, daughter of Mike and Sue McCloskey from Fair Oaks Farm, the founders of the brand, each speaker shed light on what this means for Canada.
The history
It all began with a veterinarian named Mike McCloskey and his wife, Sue, who met and fell in love not only with each other but with dairy cattle and the relationship between dairy producers and their cows.
They started a farm with 300 cows and called it Fair Oaks Farm. Pushing boundaries throughout the years, the couple focused on sustainable dairy farming and grew their herd to 5,000 head, with an emphasis on producing quality nutritious milk.
In 1994, they started a cooperative called Select Milk Producers Inc. (now the sixth-largest cooperative in the U.S.) and created their own brand of premium milk called fairlife. Then in 2012, Coca-Cola partnered with Select Milk Producers, Inc.
A pivotal point in their story occurred when the well that supplied water to the cows caved in, and they had to install a reverse osmosis filtration system to keep producing the same high-quality milk.
Intrigued by the filtration system, the couple had the idea to try filtering the milk itself – singling out the components and then adding them back in at different levels to create a specialized product that still tasted good.
As Sue McCloskey stated in a video: "fairlife is a culmination of everything we've done. Our commitment is to continue to produce the kind of nutrition your family, my family and all different kinds of families need. Fairlife is about the care for our cows, care for the environment, the safety of the product, the people who work for our farms and the communities in which we are involved. All of that is in a glass of fairlife milk."
The brand
Three minutes after a cow is milked, the milk is chilled at 3ºC. The milk is then filtered for its five components that each have a slightly different size: water, vitamins and minerals, lactose, protein and fat.
From there, the components are recombined using different recipes to create each of their products:
Ultrafiltered milk – 50 percent protein and half the sugar than regular milk with 30 percent more calcium


Smartsnacks – 15 grams of protein with 5 grams of prebiotic fibre added


Yup! – Less sugar and more protein than competitors in this space


Core Power – High-protein milkshake with 26 grams of protein


Elite Core Power – Higher-protein milkshake, catering to athletes adding muscle with 42 grams of protein and 6 to 7 grams of sugar


DHA Omega 3 – Ultrafiltered milk with added omega-3s


Nutrition Plan – Weight management-focused with 30 grams of protein and 2 grams of sugar
Entering the Canadian dairy industry
Realizing the success of fairlife in the U.S., the company decided to expand into a new marketplace in Canada.
Over the last two years, the company has been working closely with Dairy Farmers of Ontario (DFO) to learn more about the Canadian dairy industry, the market and how to source local fluid milk.
DFO delegates were invited to Fair Oaks Farm to visit the flagship farm and learn firsthand the company's vision from the McCloskeys. DFO then invited fairlife representatives to Elmira, Ontario, to visit Milky Wave Farms, which demonstrated the passion and quality that goes into Canadian dairy production.
"One of the reasons we chose to come to Ontario and why fairlife's first international expansion is here in Canada is because the milk quality is so amazing," Novick stated.
At the moment, fairlife products available in Canada are made with American milk. Novick explained, "Very clearly, we are importing milk right now from the U.S. because we have to launch the product in advance of the plant opening for the simple business reason: We needed milk to run through the plant for when it opens."
The company decided to build its $85 million processing plant in Peterborough, Ontario, where Minute Maid (a subsidiary of Coca-Cola, chilled beverage division) has been processing its products in the city for more than 70 years.
Novick stated, "We have a lot of roots in the Ontario area and Peterborough specifically. We're very excited to extend our beverage into the great dairy world."
Breaking ground last fall, they plan to begin processing fairlife in the spring of 2020 with local Canadian milk. At this location, they will produce four 1.5-litre bottles of fairlife ultrafiltered milk: skim, fat-free, 3.25 percent and chocolate. They will also produce white and chocolate milk in small 240-millilitre bottles.
Innovation meets consumer demands
"Milk is a super food," Porter stated. "This idea of creating recipes and being able to take milk to the next level, and not just in one particular space or category … means you can take it to a bunch of different places. That is what fairlife is currently in the process of doing, and we look forward to continue to do so."
Porter added the time for innovation is now. With decreasing milk consumption and diverse consumer needs, the competition in the alternative beverage space is doing well.
Consumers are becoming more skeptical about milk and "being fed information that is not true," he said. "This is a movement about bringing excitement back into fluid milk. About innovating and letting people understand and appreciate what milk has to offer and doing it in a way that fits into their daily lives and throughout the course of their entire life. We see it as something that is bigger than us … it's a global thing."
The brand has had three years of double-digit growth since it launched nationwide in the U.S. The brand is also responsible for a 70 percent increase of sales for the value-added dairy category, according to the Nielsen Company that tracks consumer sales in Canada and around the world.
Novick reported that, typically, new product launches achieve a 2 percent category expansion, but with fairlife, 40 percent came from outside the dairy category.
This means the product has brought consumers back into dairy who were otherwise drinking plant-based beverages, water, soft drinks, juices, etc.
The positive impacts filter down to dairy producers and retailers, where it takes 1.5 litres of regular milk to make 1 litre of fairlife milk (because of the extra protein), and the premium price helps drives sales at the grocery store.
Based on consumer research, Novick added, "68 percent of consumers repeated their purchase of fairlife milk, which is double the average. We have a winner here with fairlife."
The next steps
Novick said they are currently working out the criteria that will need to be met for local dairy producers to supply fairlife-qualified milk when the plant opens.
Although she cannot disclose specific details at the moment, she did say they will continue to work with DFO, which will communicate through the proper channels to dairy producers when the time comes.
She did share, however, that to maintain the high-quality milk the brand requires, dairy producers need to have a somatic cell count (SCC) of 200,000 or fewer and a bacteria count of less than 10,000 (bactoscan).
She stated producers will need "some kind of milk chilling system," but none of that has been determined as of yet.
Moving forward, communication will be important for Canadian consumers. Once Canadian milk starts flowing through the plant, the packaging will be marked accordingly, which will be communicated digitally.
"We're in the awkward stage right now; we couldn't have done this any other way … This is not a couple-year launch; we don't build an 85-million-dollar plant for cheap. We want to be here driving innovation for decades and hundreds of years to come in dairy, so this is our beginning, and we know we have to be patient. We have to be humble, and we look forward to the long-term future fairlife will bring to the dairy industry and to consumers," Novick said.
On behalf of herself and her parents, Jacqueline McCloskey expressed their gratitude to the dairy producers present in the room during the SWOD: "Thank you for having us here today; we're so excited Canada gets to be our first international expansion. We've had so much fun working with Canadian dairy farmers in the past, so we're very much looking forward to it."
Visit Fairlife's website to follow plant construction and their journey with the Canadian dairy industry.
PHOTO 1: Jacqueline McCloskey, daughter of fairlife's founders, addresses Canadian dairy producers at the South Western Dairy Symposium, which took place Feb. 21 in Woodstock, Ontario.
PHOTO 2: Carolyn Novick, director of fairlife for The Minute Maid Company Inc., Coca-Cola Limited (CCL), said, "We think there is phenomenal opportunity, and we are so excited to be a part of the dairy industry." Photos by Lora Bender.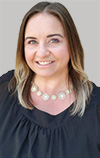 Lora Bender

Editor
Progressive Dairyman