Health and safety is at the forefront of your operation. You are immensely invested in the well-being of your team and want them to go home the same way they came to work. Many steps are taken on a daily, weekly and monthly basis to ensure the health and safety of your entire team.
But does health and safety have a voice on your farm? In case of emergency, is there someone who will know what to do? When your team is in a rush on a Saturday morning to get chores done, is there someone there to keep health and safety on the minds of your team?
Who and what is a health and safety representative?
A health and safety representative is a voice on your farm for all things safety. Health and safety representatives are directly involved in improving health and safety conditions at work.
The representative, with input from other team members, identifies potential health and safety problems or hazards and then brings these issues or concerns to the farm manager or management team members.
Your health and safety representative must, under the Occupational Health and Safety Act, R.S.S.O. 1990 (OHSA), be someone who does not exercise managerial functions; think of them as the voice of your team.
This person should be selected by the other members of the team, with the best method being a team vote. This person should be someone with good communication with the rest of the team and who will be willing to participate in health and safety initiatives.
Does every farm need a health and safety representative?
All farming operations, inclusive of dairy farms, with six to 19 regularly employed team members are required under the Occupational Health and Safety Act, R.S.S.O. 1990, to have a health and safety representative.
If you have more than 20 regularly employed team members on your dairy, you will be required to have a joint health and safety committee (JHSC).
A JHSC is composed of employee and employer representatives, whereas a health and safety representative only represents the employees.
A JHSC is deemed necessary when there are more than 20 team members, as they are proven to provide greater protection against injury and illness in the workplace.
Feel free to contact me for more information on forming a JHSC for your dairy, if applicable.
Team members determined to be "regularly" employed are those who are employed for a period that exceeds three months.
This includes permanent full-time staff, permanent part-time staff, contract staff and seasonal workers. It also includes managers and supervisors.
Roles and responsibilities
JHSC members and a health and safety representative have the same overall responsibilities. These include the responsibility to inspect the workplace at least once a month [section 8(6)] and the power to:
Identify workplace hazards [section 8(10)]


Be consulted about workplace testing [section 8(11)]


Make recommendations to the employer [section 8(10)]


Investigate work refusals [section 43(4)] and serious accidents [section 8(14)]
Employer responsibilities regarding health and safety representatives
Employer (being the farm manager or owner) responsibilities include informing the health and safety representative of any work-related accidents involving injury, death or occupational illness and providing the representative with the results of any reports relating to health and safety in the workplace (Ministry of Labour reports, if any occur).
Basically, the employer must involve the representative in health and safety initiatives, changes and other measures on the farm. This is a team effort.
As a working team member, the representative may notice health and safety concerns or hazards employers might not be exposed to as often.
Working together with someone working on your farm is the best way to get the team's perspective on health and safety at work.
The bottom line
Having a health and safety representative, or JHSC if required, on your farm is the best way to stay compliant as well as take every step towards a safer farm.
By working with this team member, you will be able to feel confident you will not be the only person on the farm noticing and making recommendations to work towards creating a safe workplace for the entire team.
This partner in safety will give you an insight into the hazards your team faces on a daily basis and will help to eliminate those, moving you towards a safer dairy.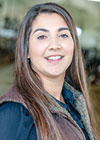 Danielle Pasztor

Farm Safety Specialist and HR Consultant
PeopleManagement Group Inc.