Editor's note: This article is based on a presentation made prior to the COVID-19 pandemic; however, the consumer trends mentioned here are likely to carry through and will be just as important to the industry post-pandemic.
"The dairy sector should feel optimistic about the future, but it's not going to be easy," Dr. Sylvain Charlebois said to a full house of dairy producers at the 2020 South Western Ontario Dairy Symposium in February in Woodstock, Ontario. Charlebois is a professor of food distribution and policy at Dalhousie University, as well as the senior director for the Agri-Food Analytics Lab also located at the university. He is active on Twitter, known as the "Food Professor" with almost 10,000 followers.
Over the years, the dairy industry has been faced with challenges – many of which took place just last year. From dairy being removed from the Food Guide to Starbucks wanting to reduce its carbon footprint by half by 2030, to Greta Thunberg turning heads about a climate crisis, to rapidly changing consumer habits, the industry is at a crossroads. Charlebois said, "When you look at trades and when you look at consumers – where they are going, what's going on, what are they thinking and is milk still popular? Does dairy still have currency in the marketplace? My answer to that question is pretty simple – it does, but it's different."
It's about value
Times are changing; for example, just last year, Health Canada presented the new Canada Food Guide with water as the drink of choice and favouring plant-based proteins. Back in the day when times were simpler, Charlebois said the dairy sector model was about getting the milk, providing a wholesome product to the market and having consumers love you for it. "What's happening right now in the marketplace, over the past 12 months to two years, is that people are starting to look at food very differently, and that includes dairy. It is no longer about 'stomach share'; it is about value and how people relate to the food."
Then take Starbucks deciding to promote milk alternatives more and more over the years by changing its menu and sending the message that some products are better for the environment than others. These examples, including the international movement to fight climate change, have impacted the consumer psyche and now influences decisions being made in the grocery stores and at restaurants.
Consumer studies and perceptions
"A lot of Canadians out there believe that it's important to support the dairy industry in Canada," Charlebois said. In a survey conducted in 2019, 53% of Canadians strongly agreed that they believe the dairy industry is important in Canada. The study also asked how important it was for Canadians to support Canadian dairy farms by buying Canadian. The results showed that 62% strongly agreed. When asked further if they would still buy dairy products, if they were more expensive, if it meant they can keep dairy farms in Canada, 28% strongly agreed. "Canadians are voting for you. In terms of dairy products, purity and quality, you're delivering," he said. People are recognizing it is important to keep jobs in rural Canada, and to do that they need to preserve the dairy sector.
Contentious topics, such as the environment, are more the issue. For example, Figure 1 shows the results of a new survey on dairy farming where Canadians were asked if they believed dairy farming was good for the environment.
"The younger Canadians are, the less likely they'll believe that you are good for the environment – and, of course, you can believe what you want, but this is important because this is a perception," Charlebois explained, pointing out that some Canadians have no idea what the job of a dairy producer actually is. "There's a complete disconnect between rural communities and urban centres, and that fuels bad perceptions. But perceptions are something you have to accept. Perceptions do influence behaviour and choice, unfortunately," he continued.
The second question in the survey to Canadians asked if they believe the dairy industry treats cows and other animals humanely. As shown in Figure 2, the generations born from 1980 onward (millennials and gen Z's) hold the majority of concern.
He stated, "I actually believe that most Canadians do believe you do treat animals well on farms; it's the concept of exploiting animals." Consumer trust has never been more important. In order to trust someone, you have to accept some vulnerability. He explained, "If you're a person in the city and are asked to trust a dairy farmer, you're basically trusting someone based on something you have no idea how it works. If a population is vulnerable and there is an information void, activists will take advantage of that vulnerability as much as possible. And this is why I think you need to look at trustworthiness, you need to look at if you're credible or not – beyond the story. Transparency is going to be a huge issue moving forward."
In another survey, the lab learned that 54% of Canadians said their food resolution was to reduce food waste. Their second resolution was to eat more vegetables and fruit, and third was to cook more often. "People are seeing food from a different lens. They see through health, animal welfare, the environment and, of course, nutrition and money," Charlebois said. He added, "Snacking is changing, and the three-meals-a-day institution is dying," which means people are skipping meals and having snacks instead.
By the end of 2020, Charlebois expects that Canadians would have spent over $2 billion on food apps. "People are dining out – but in. So there are great opportunities for dairy farmers right now, I think." The future of the dairy industry is not just about quota and pricing; he said, "It's about how you add value to your commodity, and it cannot happen without a solid processing industry. If you want to connect and serve the Canadian public well, you have to think about the entire value chain and how we support processing."
Future innovation and challenges
"There is an economic theory which suggests that with the more choices you provide to a market, the more you increase the likelihood to purchase," Charlebois said. Using Beyond Beef as an example, he noted that beef is now "exciting" again, and cattle producers have actually seen it in their numbers. Consumers are talking about protein again, and this is how he sees it for dairy producers as well. "I don't look at dairy or milk as a commodity; it's an ingredient to do all sorts of things. You can do all sorts of things with research and innovation – we can do different things with milk. We can't have a solid innovation agenda without a solid processing sector. So choice is good. And that's what the younger generations want – they want choice."
Other challenges
Artificial intelligence: Not only is technology and data collection growing on farms, but also in the grocery stores. For example, last year Sobeys launched its "smart cart" in Oakville, Ontario. A pilot project that scans products as they go into the cart and with a built-in GPS, the cart can direct and suggest products to the consumer while collecting valuable data on their behaviour, etc. "If your data is more than three months old, it's too old. It's got to be in real time, that's the new normal," Charlebois stated. Data helps you understand consumers and find gaps in the marketplace.


Service/retail ratio: Currently, the average Canadian will spend $37 out of every $100 on restaurants. Americans have been at a 50-50 ratio since 2016 and, by 2032, Charlebois said that Canada will be there as well.


Supply management 2.0: Charlebois said that later this year their lab will be releasing a "roadmap" – a new strategy to help the dairy sector but with a value chain approach.
Although there is no crystal ball to tell the future of Canadian agriculture, by better understanding consumers and learning what makes them "tick," the dairy sector will be sure to persevere. "This is our time – this is when we really need to do something," Charlebois concluded.
PHOTO: Dr. Sylvain Charlebois discussed the future of the Canadian dairy industry at the 2020 South Western Ontario Dairy Symposium in Woodstock, Ontario. Photo by Lora Bender.
References omitted but are available upon request. Click here to email an editor.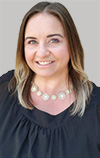 Lora Bender

Editor
Progressive Dairy