Winter brings cold temperatures and severe weather conditions that create hazards. Ice and snow are inevitable, but injuries are not, so be proactive with your winter safety plan.
Workplace conditions
Snow, ice and rain can make parking lots, walkways, stairs and other surfaces slippery. Patches of ice, debris and other items may not be seen if they are covered in snow. Clear pathways from snow and use sidewalk salt to reduce ice.
Drivers and equipment operators may lose control of equipment in slippery conditions. When operating equipment, drive slowly and be cautious while driving around co-workers or animals.
Lighting may be poor in the morning and afternoon; you may not be able to see hazards and drivers, or equipment operators may not be able to see you. Ensure outdoor lights around entrances are in working order.
Indoor floor surfaces can be very slippery due to melting snow and ice coming in from outside. Clean boots and equipment before entering buildings, and watch for slippery areas.
Outdoor equipment can be slippery; use three points of contact when getting on and off.
Working in cold weather
Working in the cold puts stress on the body and uses excess energy to maintain body heat. Take proper precaution and watch for signs of cold-stress illnesses, such as:
Hypothermia: Shivering, loss of coordination, confusion, loss of consciousness


Frostbite: Reduced blood flow, numbness, aching, pale skin, tingling or stinging


Trench foot: Tingly/itchy feet, blotchy spots, swollen or numb toes or feet
Protecting yourself while working in the cold
Wear appropriate, warm, slip-resistant footwear; even cleared areas may be slippery. Wear inner and outer layers that will keep you dry and bring extra clothing in case your clothing gets wet. Wear a hat or a hood that covers your ears and waterproof, insulated gloves and boots. Continue to use appropriate PPE and high-visibility clothing. Finally, ensure you take frequent breaks in warm areas such as inside buildings or vehicles.
Removing snow and ice
Someone should be assigned the task of removing snow from areas such as entrance ways, emergency exit doors and pathways. This person should also ensure parking lots and walkways are shoveled and salted or sanded in the morning and as needed throughout the day. Include both regularly used exits as well as emergency exits.
Clear icicles that may fall off the roof or building and remove excess snow from roofs. Use proper lifting techniques when shoveling snow to avoid injuries and exhaustion. Take small scoops and, when possible, push the snow instead of lifting it. If using a snow blower, ensure it is in good condition and do an inspection of the equipment before every use. Never attempt to clear a jam in a snow blower by hand.
Only operate equipment with a plow attachment if you have been trained and it is in good condition. Always ensure an area is clear of hazards before plowing or using a snow blower.
Winter driving hazards
It is important to inspect your vehicle before you drive. This includes clearing your vehicle completely of ice and snow, including windows, mirrors, roof and lights. Check tire pressure, wiper fluid levels and wipers. Carry a cellphone and scraper or brush. Give yourself extra time, slow down, and drive appropriately for the road conditions. Watch for black ice, and maintain a safe distance from others to allow for safe braking.
It is everyone's responsibility to report unsafe winter conditions throughout the day. All incidents must be reported, even if they do not result in an injury. For example: You slip and almost fall, or you fall and twist an ankle but can continue to work. Reporting near-misses and unsafe conditions is extremely valuable to prevent someone else getting injured. Just because nothing happened to you does not mean it will not happen to someone else.
Getty Images.
Cheryl DeCooman, CHRL, can also be reached at (519) 532-2508 or on Twitter and Instagram.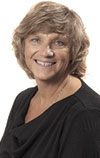 Cheryl DeCooman

President
People Management Group