The involvement of women in agriculture isn't new. It has probably occurred since the beginning of food cultivation.
"What is new, though, is how we recognize and appreciate women's contributions," Krysta Harden said at the Advancing Women Conference West in Calgary, Alberta, in March.
Women have a unique role to play in today's agricultural industry, and their voices are needed to move this industry forward. Harden encouraged women to add their chairs to the table and to help each other along the way.
A farmer's daughter from rural Georgia, Harden grew up on a peanut farm, was in 4-H and showed steers, but admittedly said she didn't work real hard and didn't know too much about agriculture when she first stepped foot in Washington, D.C. after obtaining a journalism degree from the University of Georgia.
In working for a member of the U.S. Congress who had an appointment to the House Agriculture Committee, Harden was asked to work on the farm bill. Working on this legislation, which happens to be the foundational ag policy bill in the U.S., sparked an interest in agriculture Harden didn't know she had.
"It brought me back to my roots, to the things I care about, the passions I had grown up with, that hard work my parents and their parents had put into our farm. All of that came to me as I matured and realized it's what I loved and what I cared about," she said.
Harden's career history includes working with the American Soybean Association on conservation and renewable energy issues, and as the CEO of the National Association of Conservation Districts.
She spent more than a decade on Capitol Hill in Washington, D.C. in both the staff and press secretary roles. Harden served as deputy secretary of the USDA and almost two years ago took on her current role as vice president, public policy and chief sustainability officer for DuPont USA.
Throughout her career, Harden has focused on expanding the ranks of agriculture and growing the opportunities for women and young people.
She helped implement programs like the USDA Beginning Farmers website and the department's women in agriculture mentoring network, which now boasts more than 1,000 members.
Harden has traveled the world talking about agriculture and, specifically, about women's role in it. In many countries still today, women are not allowed to own land or obtain credit. If their husband happens to die, their land will be given to a male member of the husband's family.
"That's why we are here today," Harden said at the conference. "Why you are taking time from your family, from your businesses, to make sure we do come together as this female side of the partnership of agriculture to help tell our story, to help add value to who we are and what we do for this great industry."
Speak up
Who is the best messenger for telling our story in agriculture? Harden said women are well suited for this role for a number of reasons.
In most households, women still do most of the shopping and meal planning, even if they are not always the cooks.
"Women still make those decisions, and guess who women listen to – other women," she said. "We are networkers. We talk to each other. We listen to each other."
Harden said when she needs advice, she will turn to her mother, her sister, her girlfriends or her female colleagues. These are the people she trusts.
Men don't relate to the consuming public as well as women do.
"When [consumers] see your face and talk about your family and talk about your kids and your worries, you relate," she said to the audience of women. "They listen. They perk up. They want to know more. They want to ask questions."
To better tell your story, Harden recommended taking some time to think about why you do what you do, why it is important to your family and what drives you to make the decisions you do.
She quoted an American poet who said, "People will forget what you said. People will forget what you did. But people will never forget how you made them feel."
Harden said feelings are a language all on their own. Her personal passion is working with female farmers in Africa. While there are often language barriers, she said when a farmer is showing you their land and what they are growing, you can see their pride and devotion shine through.
"Your passion, your commitment, your love of the land, your love of caring for others, for feeding others, whether you're a small shareholder farmer in southern Africa or a large commercial farmer in Canada," she said, "the things that you have in common are what makes this industry strong."
A lot of agriculture is based on heart, and that's what makes this industry different than others. Sharing that love and commitment is the story this industry needs to be telling. "That's the story I think no one tells better than women," Harden said.
Bring your chair to the table
Harden's second request for the audience was to think about adding their chair to the table, whether it's a boardroom, a kitchen table, a community group table, a 4-H table or wherever it might be.
"Bring your chair," she said. "You don't have to push anybody else out of the way. This is not taking away voices or diminishing our male colleagues. It's about adding your chair, adding your voice to it, and making sure your understanding of things and the way you make decisions is considered."
Harden said women still have a long way to go in some places from the corporate board room to the kitchen table, but she feels it continues to change.
A lot of young women don't even think twice about it. They are going to be there because they recognize they have as much to win or lose, and they are going to help make those decisions.
"That is what we want to empower other women to do," she said.
Help each other
In empowering other women, it is important to help each other.
"Women have to help women. You've got to have each other's back," Harden said.
"It doesn't mean you have to love everybody or even like everybody. It doesn't mean you have to agree with them, but it [also] doesn't mean you can't be honest and straightforward and you cannot support them," she said.
She encouraged everyone to think about whom they could help and support and also suggested inviting friends or family members to come along to meetings to keep from being the lone voice.
Twice while working in a small business, Harden offered to cover for her female colleagues on maternity leave so they would have a job upon their return.
"I don't have kids of my own, so I could have the flexibility to double up. I did it because I cared about them, and I cared to make sure that our small business got the work done for our clients and that my boss understood we were a team," she said.
In another situation, Harden and a good friend of hers were interviewing for the same job. Instead of being competitive, they helped each other prepare and did mock interviews together.
"That's the kind of support you've got to give. That's having each other's back. That's caring," Harden said.
Farmers and the agricultural community are known for coming together when someone is sick or hurt and needs help on the farm. She asked women to dig a little deeper, to not only help but also to empower other women.
One way is: When giving recommendations for a job or position on a board, make sure at least half or sometimes all of the names given are women.
In helping each other, bringing a chair to the table and telling the story, women can make sure their voices are heard to make a difference both here and around the world.
PHOTO: Krysta Harden, vice president, public policy and chief sustainability officer for DuPont USA, addressed an audience at the Advancing Women in Agriculture Conference in Calgary, Alberta, in March. Photo by Karen Lee.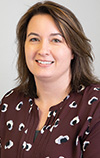 Karen Lee

Editor
Progressive Dairyman
Q&A: Should women spend time at women-only events or bring a chair to the table at existing conferences with male counterparts?
This question was asked of Krysta Harden, vice president, public policy and chief sustainability officer, DuPont USA, at the Advancing Women in Agriculture Conference. Harden responded, saying it is an individual decision, but both events are valuable in their own way.
The knowledge you get for personal growth and building a personal network, you're probably only going to get at a conference for women.

Here, the speakers are dedicated to talking about the issues women are wrestling with in this industry. It also provides a forum to have unfiltered, candid conversations where you can ask questions you might not want to ask in a co-ed meeting.

It is a place where you can be nurtured and cared about and really be yourself. These conferences are where you can build a network that has your back and gives you the support you need.


Women need to be involved on boards, on committees, running for office and holding office. Female voices need to be heard. Plus, co-ed meetings can offer professional growth and networking opportunities for both men and women.
Harden advised to try to make room for a little bit of both. "I hope even though you are busy, and you have a lot of things going on, you will not say it's got to be one or the other. Just think about what you need at this time in your life and your career," she said.