Listowel, Ontario veterinarian Dr. Kelly Barratt was the 2021 recipient of the American Association of Bovine Practitioners' (AABP) award for Bovine Practitioner of the Year.
Barratt is the first woman and youngest person to be awarded the title. Her achievements include 17 years and counting as a large-animal veterinarian with Heartland Veterinarian Services, a consultancy role with the Dairy Farmers of Ontario (DFO) to advise on proAction implementation and collaboration with veterinarians. Additionally, she is the only practicing bovine veterinarian on the committee reviewing and revising Canada's Code of Practice for the Care and Handling of Dairy Cattle. On the committee, Barratt serves as a representative for the Canadian Veterinary Medical Association.
Barratt spoke with Progressive Dairy Editor Emma Ohirko about her unconventional award ceremony, the qualities of a good veterinarian and the advantages offered by protocols and standards like those set by proAction and the Code of Practice for the Care and Handling of Dairy Cattle.
Dr. Kelly Barratt
Veterinarian
Heartland Veterinarian Services
Due to COVID-19 restrictions, you were unable to attend the AABP award ceremony; however, you were surprised with the announcement of your award win by family, friends and colleagues. Can you tell me about that?
BARRATT: By coincidence, because I was on maternity leave, one of my neighbouring clients, who had written a letter in support of my nomination, invited me over for coffee – and I went over to her farm thinking I was going for a visit. She told me her daughter needed pictures for a school project, and we walked into the barn. There is a big roll-up door to the Coverall part of the barn, and when the door opened, there were about 30 of my friends and family standing waiting for us. I didn't know what was happening. I had to listen to the announcement speech by Ann Godkin [a fellow bovine veterinarian] to know what was going on, and when it finally dawned on me what was happening, I was in complete shock. Just total shock. I never in a million years expected to receive this award.
What was your motivation to become a bovine veterinarian?
BARRATT: I spent time as a teenager with a large-animal vet who did mostly cattle, and I really enjoyed it; it really sparked my interest. I continued and did a co-op with a veterinarian in high school. Additionally, all my summer jobs focused on preparing me to apply for vet school. When I began at the University of Guelph, one of my summer jobs between my years at university was working on a dairy farm, and I got to milk cows for the first time. It clicked with me that I really loved the job, and I loved everything I learned that summer about dairy farming.
From there, when I did get into vet school, I knew right away I wanted to focus on cattle, specifically dairy. I wanted my role in my profession to have a purpose for the greater good. I felt like being a food animal veterinarian allowed me to achieve that because I could help animals, which was my childhood dream, and work with farm families and make strong connections to, in turn, be able to help my local community and the public.
In your opinion, what qualities make a good veterinarian?
BARRATT: Number one would be empathy. We must be empathetic towards our clients and compassionate towards our patients. You must have that connection.
You have to have a sense of humour. If you don't have a sense of humour, you might not see the funny things that happen in life, like the times that are maybe not so fun in the moment – but looking back, they're pretty funny.
A good vet needs intelligence, but I think even more important than how smart you are is whether you can communicate information from the science into the real world, to be able to communicate with clients and add in a dose of common sense.
The final thing is one I didn't really think about prior to becoming a vet, but certainly has become clear the longer I'm in the role: resilience and dedication to being a vet and to the profession and the role of being an adviser.
As a consultant on proAction with DFO and a dairy farmer yourself, how do you think producers should approach proAction on their farms?
BARRATT: It really is a lot of components to make work – so with that in mind, I would say the more we can weave proAction into our daily routine, the better.
Records and information can have a positive impact on farm management, provided it is reviewed and utilized. If it helps to conserve market space by reassuring consumers dairy is produced in a responsible and sustainable way, I think that is a bonus.
Based on your involvement in the current efforts to update Canada's Code of Practice for the Care and Handling of Dairy Cattle, how do you see the changes benefiting industry stakeholders?
BARRATT: I think the updates themselves will help benefit the industry in general, in part to raise the bar for the document itself as the basis for care and handling of dairy cattle in Canada. It is also what the proAction animal care module is based on, and we know those are living documents that will change over time, and this is the update to that. We are going on 13 years since the last review, and we know there's been a lot of scientific developments over that period. We are hoping to incorporate that science to raise the bar for the standard for care of dairy cattle.
I think the revisions will help stakeholders, including consumers and processors, to be reassured of the minimum standards. However, at the end of the day, the document is for the animals and for the industry to demonstrate what the standards are.
What is one thing you think most farms could benefit from implementing?
BARRATT: I have three things:
1. Organized, thorough records and generalized tidiness – because this helps keep your mind focused.
2. Lots of bedding. I've never gone to a farm and said, "Oh my gosh, there's too much bedding here." You can never go wrong with more bedding.
3. Visiting other farms outside of your bubble to see how they do things; you can learn a lot. If that means physically going to other farms, that's wonderful – but in this climate with COVID-19, even if we can do that virtually, I think there's a big advantage to it.
PHOTO: Unable to attend the award ceremony in-person, Kelly Barratt was surprised on a neighbouring farm by friends, family and colleagues with the announcement she had received the title of Bovine Practitioner of the Year. Photo provided by Kelly Barratt.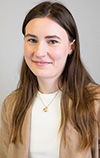 Emma Ohirko

Editor
Progressive Dairy