When referring to a dairy farmer's support team, it is common to hear a nutritionist, veterinarian or banker called out for the regular assistance they offer. Seldom mentioned is the farm's equipment dealer, who also provides steady support by supplying and maintaining the equipment it takes to get the job done.
Progressive Dairyman asked several dealers across Canada to share how changes at the farm level have impacted their businesses. Here are the answers from those who responded.
They include Rick Bauman, Norwell Dairy Systems Ltd., Ontario; John Bruinsma, Pacific Dairy Centre Ltd., British Columbia; and Ben Willemse, Dortmans Bros. Barn Equip. Inc., Ontario.
Please describe your business.
Bauman: Norwell is a family-owned business started in 1980. We currently employ 115 staff, operate a fleet of 70-plus vehicles and are based in four locations across Ontario.
Our main business focus is sales and service of milking equipment, cooling equipment, animal housing, cow comfort and farm supplies. We have also recently expanded in feeding automation. Our customer base is diverse in size and includes dairy cows, dairy goats, dairy sheep and buffalo.
Bruinsma: Our dairy equipment company started 30 years ago, going against the odds by entering in a market as a newcomer compared to other mainstream milking companies.
We started with Germania as a commercial hybrid that provided a quicker way to milk a lot of cows with lower maintenance.
We ended up as a mainstream dairy equipment dealer with the amalgamation of Westfalia and Surge, now called GEA. We are heavily involved with milk production and processing of manure and, as of late, we are involved in the robotics sector of milking equipment.
Because we have proven ourselves to work with 24-7 parlors, we are ready and not afraid of the 24-7 robot market.
Willemse: Dortmans Bros. Barn Equipment started in 1980 with John Dortmans supplying barn feeding equipment. Over the years, the business has grown in its product offerings.
We now sell, install and service almost any equipment that goes into a barn, such as milking systems (robotic, parlour and tiestall), feed handling, manure handling, stabling, ventilation, etc.
We provide services such as customized CAD drawings for barn design, milk time analysis and equipment cleaning supplies. Service is the most important focus of our business, providing 24-hour service, seven days a week.
What changes in the dairy industry have impacted how you do business?
Bauman: We are privileged to enjoy relative stability in the Ontario dairy industry; therefore, most change in the industry has had a positive impact. The main changes that come to mind are quota policy changes, biosecurity, increasing implementation of automation and animal welfare.
Further to these, we could also include adoption of social media, online banking and the vast amount of information available.
Bruinsma: The biggest changes in the dairy industry today have to do with automation. It was difficult as we saw the competition introducing robotics around us, but we were excited to see the engineering of GEA introduce developing historic patents, and we are confident with their strong technology.
This technology, combined with the quality of milk it produces, will give us a good base for the future. As GEA is the second-largest milking equipment company in the world, we have confidence in the future of working with their equipment and their ability to adapt to the changes of automation.
Willemse: The dairy industry is changing and, if you are not changing with the industry, you are falling behind. As the consumer knows less and less every year about where food comes from, there is an increasing demand for higher and higher standards of food production.
Therefore, the dairy industry is experiencing increasing regulations, policies, paperwork, automation, technology and efficiencies. Dortmans Bros. needs to be able to work with dairy farmers to keep up with these increased demands and bring new ideas and innovations into the industry.
What have you specifically done in the past five to 10 years to adapt to the changing industry?
Bauman: At Norwell, we have:
Implemented account managers


Installed a robust server and enterprise resource planning system to facilitate infrastructure required for email, texting, online payments, etc.


Enhanced biosecurity protocols


Added milking and feeding automation to our equipment portfolio


Changed our education and skill sets criteria when hiring


Provided "cow school" for all staff to create a base-line knowledge and appreciation for the industry we are involved in


Created and engaged in a Canadian peer group for benchmarking and idea exchange
Bruinsma: My partner Garry Franz and myself saw this trend towards automation coming very early on. Since we did not have robots, we emphasized a very strong line of meters, ID, sort gates and management. We achieved more than 1,500 milk meters with more than 15,000 ID'd cows.
While our GEA robots came into the market five to eight years later than the other companies, we have achieved well over 100 robots in our market area through our parlour and box robots in just over two years.
Here in the West, we see a very progressive dairy industry that certainly adapts very quickly. We saw this 30 years ago and know this has not changed. Good automation with good milk quality has the best chance to progress for the future dairy farmers.
Willemse: Dortmans Bros. has been through many changes in the last five to 10 years. We have expanded our customer base and territory, which has helped us focus on certain areas.
We now have excellent staff trained and passionate about milk time analysis, goat milking facilities and technology, milking robotics, automated feed systems, CAD barn design, milking system cleaning specialists, route truck customer care call-ahead program, dedicated scheduled maintenance staff with follow up and much more. We are always looking for new things we can bring to the industry.
What are the biggest challenges you currently face?
Bauman: In the current economy, we are constantly challenged to find and hire sufficient qualified staff.
The dairy equipment installation and service business is a non-licenced trade in Ontario, and we face the dilemma of knowing what category we fit in when audited by regulatory bodies or when encouraging staff to take further training.
We also are dealing with a shortage of resources in the construction industry, resulting in delays of expansion in the dairy industry. This shortage results in booking a project two to three years out, which is challenging when considering currency exchange rates and price increases.
Bruinsma: Our biggest challenges are equal to all dairy farmers, which include:
Finding reliable labour
Milk quality
Animal welfare
Service support
Strength of manufacturers for the future
Farming competition in general
We happen to live in a northern country in an area that could compare us to Southern California. This gives us challenges similar to dairies: expensive lands, expensive overhead and severe competition with other sectors of the agricultural industries.
Examples of these sectors are blueberry farms, horticulture, greenhouses, cold crops, land investment and poultry.
Willemse: One thing I love doing is talking with other people in the dairy industry. We all seem to have similar challenges. We are always looking for and recruiting new people to add to the Dortmans Bros. team that have passion and drive for the dairy industry.
With multiple locations and several trucks on the road, inventory control is always a challenge. As the company grows, the other challenge I face is: There is less and less time to have on-farm visits with our valued customers. All Dortmans Bros. employees know the value and importance of customer service.
What tips do you have for hiring and retaining good employees?
Bauman: Word of mouth is my favourite method of recruiting – having someone endorse an applicant or encourage someone to apply is great. We try hard to make Norwell an enjoyable place to work and provide flexibility of hours.
For example, in the past six months, we have had a number of staff choose different working hours to accommodate personal schedules and preferences. We also have intentional discussions regarding career choices and provide ample opportunity for career advancement.
A complete benefit package and a company pension plan is in place and reviewed periodically to ensure it is sufficient and meeting the needs of our employees.
Bruinsma: As far as hiring of employees, it is getting more difficult to find people who have had contact with agriculture. We are not in a mainstream agricultural area, and we depend on word of mouth with our own staff to help in our search for future employees.
We are all in this together and need as much participation to find the right people as possible. We have a great staff with a good atmosphere, and this is a good culture to help retain people while balancing the expectations of customers.
We really do care for our staff and our customers equally and try to balance this daily.
Willemse: I have been refocusing within Dortmans Bros. to hire and work on retaining good employees. I value people and I believe everyone has something they can offer. I try very hard to listen to employees and hear what they are saying.
I can't always do what they are asking, but it always helps me grow a bigger picture with more information in my decision-making. I read a lot of articles and daily emails on leadership, team building, human resources and working with people. I try to implement some of the things I am learning.
What inspires you to remain committed to the dairy industry?
Bauman: In the almost 30 years I have been involved, the industry has changed a lot. However, one thing that doesn't change is the synergy among people, animals and food production.
I feel extremely privileged to have met many great individuals and families who demonstrate strong commitment to the industry and inspire me personally. I enjoy watching farm businesses grow and transition from one generation to the next.
I am inspired with the passion shown for production goals, efficiencies and animal care. Details make the difference and, in the dairy industry, we have ample opportunity to make a difference in many areas.
I personally thank the many fellow staff and Ontario producers who have influenced and challenged me and given me the opportunities and experiences I have enjoyed.
Bruinsma: What inspires me and my partner to remain in the dairy industry is our longtime involvement in this sector that goes all the way back to our teens. There is nothing more exciting than seeing good equipment work with cows 24-7 while a farmer benefits in this progress for his future farming practices.
Inspiration has a lot to do with rewards and the fact we are all in this industry to produce the most wholesome, best food possible. This is our motivation to support farms to become the best producers.
Willemse: I love the dairy industry and agriculture in general. I was born and raised on a dairy farm and have never left the industry at any time. I also love people and working with a team that has a unified focus of customer service.
Even though the number of dairy farmers is less and less every year, I remain excited about the future. I also enjoy that every day is different. The future is going to bring more technology and innovations; I can't wait to investigate, research and even implement some of them. The future is bright.
PHOTOS: Rich Bauman, John Bruisma and Ben Willemse. Courtesy photos.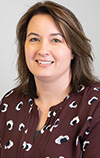 Karen Lee

Editor
Progressive Dairyman