Do you have an animal to sell? Or maybe you want to promote your herd through advertising? If so, it is time to look into livestock photography, but not without knowing how, where and who to ask for help.
Here are some important points to take into consideration before the photo shoot:
Location: Choose a place with a plain and neutral background, a lot of space and, most importantly, a lot of light. For example, avoid backgrounds with tractors or a paddock full of animals.
Limit stressors: Avoid planning your photo shoot if you are pressed for time. If you are stressed, the animal will become stressed, and this will show on camera. Therefore, do not plan your shoot between two loads of hay or when the feed truck is on its way.
Photographer: Do your research and choose well. Not everyone who works in the field of photography knows how to take a "good'' picture. A beautiful picture does not necessarily mean a good picture that fits your needs. The photographer needs to know how to place the animal based on its breed and, most importantly, how to properly showcase the value of the animal. That said, not just anyone with a camera will do.
The ease of proceedings: Make sure the person who is holding the animal is very calm and knows how to use a halter to move the animal. It would help to have someone else there as well to help make sure everything is in place (for example, the position of the ears, feet, tail, body, etc.). Seek helpers who are both capable and willing.
Minimize those involved: It is not necessary for the whole town to "assist'' with your photo shoot. Two to three people are recommended; the fewer people, the less stress and disturbance. The photo shoot has a better chance of turning out well if it is done without panic and noise.
After the pictures have been taken, it is time to format the images for advertising or promotion. Some photographers offer this in their contracts; however, it is very important to ask them about this beforehand. If they do not offer the service, a graphic artist or someone who knows photo editing programs can help with this task.
Also, be sure to think about how you want to use your advertisement. Will it be used to sell animals or genetics? Not every media outlet will work. Know your potential clients and target market. What type of media do they use regularly? What is the maximum amount of money you are willing to spend on this promotion?
Last, do not forget to pamper your animal so it is clean and well fed, so it can be at its best. Remember, the goal is to make a sale or create a beautiful advertisement for your herd. Put your best hoof forward, and happy shooting.
PHOTO: Karolstein Lilastruck 1st Grade is 5 months old and is from Karolstein Farm in Nicolet, Quebec. Photo courtesy of Elzé Photographie.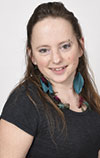 Éléna Marsolais

Agriculture and Animal Photographer
Elzé Photographie