If you have ever fallen down the YouTube rabbit hole of farming vlogs and videos, chances are you have seen the SaskDutch Kid channel.
The channel, which boasts over 170,000 subscribers, is run and hosted by Jan Kielstra, a young dairy farmer working on his family's farm located in Asquith, a small town west of Saskatoon.
Bringing the vision to life
Kielstra's parents began operating the 42-head central Saskatchewan dairy in 1996. Since then, Arjen and Anneke have grown their family and their herd. Presently, the couple have three children and milk roughly 300 cows in a double-12 parallel milking parlour, which they added to their new barn to accommodate an expanded herd, in 2018.
"My parents, they always had the dream to build a brand-new barn and build it how they wanted to, from scratch. So that's what they did," Kielstra says.
Some features they prioritized when building the freestall facility include sand bedding and four individual calf rooms that allow each room to be freed of calves and thoroughly disinfected before a new group moves in. Kielstra says many nearby farms they toured during the building process inspired the choices made when constructing their new facility.
Despite the convenience of their calf facility and the capabilities of their parlour, the transition to the new four-row freestall barn was not without its challenges. Kielstra and his father, Arjen, agree the first year was difficult as the cows struggled to adjust to the new concrete floors. As a result, their production goals took longer to meet, and hock and hoof health dipped while the animals adapted to their new environment.
Striving for more
After surviving the yearlong transition period that accompanied the move into their new facility, Kielstra Holsteins is focused on improving their herd in line with their preferred measure of success: high-fat-producing cows.
The farm sees huge potential for improvement in this area and is focusing on herd genetics to achieve gains in butterfat production. They select sires that perform well in butterfat production and employ tools like embryo transfer (ET) and herd management software and activity collars to monitor both production and reproductive performance. Kielstra says they check their report tracking when cows are in heat at least twice a day, and insemination dates are monitored regularly to prepare for calvings and dry-off.
Beyond keeping a close eye on their herd's data points, Kielstra Holsteins' efforts to increase fat production have paused their replacement sales since their herd expansion in 2018. Instead, the heifers are kept as replacements for the herd's least-productive cows.
Building a fan base
Following the barn build completion in 2018, it wasn't long before Kielstra shifted his focus to a new project. In 2019, he began sharing the farm's day-to-day happenings on YouTube under the name "SaskDutch Kid."
Inspired by other channels he enjoys, like 10th Generation Dairyman and Millennial Farmer, Kielstra started posting drone shots of his family's dairy. "I had a drone already and a GoPro, so I figured I'd give it a shot. I think I said in the beginning that I would try to do one video a week and then see where that led. Three or four months after I started doing it, I started to gain some traction and started to get some more viewers," Kielstra explains.
He says his interest in starting the channel was not to educate consumers but to open the doors of his dairy to anyone who might be interested in seeing a dairy farmer's perspective – allowing viewers to form their own opinions of dairy farmers based on the content they might be consuming.
Today, Kielstra's channel includes over 250 videos, some of which have over 3 million views. He has also diversified the style of videos he posts and recently started posting "vlog" style videos where he talks to the camera describing what is happening on the farm in real time.
The channel has afforded Kielstra some unique opportunities, including a trip to California earlier this year where he had the chance to tour dairies.
Kielstra's success on YouTube supplements his earnings – and despite only graduating high school in 2017, his social media success has allowed him to move off the farm into his own home, which he had constructed in a nearby town.
As one can imagine, after 250 uploads, staying creative can be difficult. Kielstra says working on the channel has begun to "get old." "It starts to get a little difficult to find something new to film every day," he says. But he is not done with YouTube yet, with plans to continue sharing videos for the foreseeable future.
As his online community grows, Kielstra says he is surprised to meet his subscribers in person. "It's kind of funny to just be walking somewhere, and someone comes up to you and says they watch your videos," he explains. Kielstra is equally amazed by the diversity of his online following. He notes, "It also surprises me that the audience on YouTube is so diverse. It's people from 13 to as old as people are on YouTube. [I have viewers from] the United States, from Canada, from every country in the world. People are watching all across Europe and Asia. That's pretty crazy."
Kielstra's social media experience has even inspired his older sister, Neline, to start her own YouTube channel, "A Dairy on the Prairie." On her channel, Neline shares her perspective on life at Kielstra Holsteins. She uploads videos of things like her tasks in the calf barn and her work with the small Boer goat herd she raises.
Steer raising
If being home to a YouTube star was not enough to set Kielstra Holsteins apart from other dairies in the area, Kielstra says what makes his family's farm stand out from the crowd are their steers raised to finish.
"We don't sell our bull calves as babies; we keep them on the farm until they're 1,500 pounds, typically. So we'll sell them when they're 18 to 20 months old, when we send them by cattle liner directly to the [meat processing] plant in Alberta," he explains.
Kielstra says raising steers was a natural progression for their operation. Managing the steers integrates well with their farm, he notes, as they were already equipped with a feed wagon, corrals and grain processing facilities. It also offers an important source of diversity to the farm's revenue stream.
Once the steers reach 3 months old, they require minimal management and labour, but Kielstra says it can be a challenge to reach the 3-month-old mark. "The hardest part of raising the steers is when they're zero to 3 months old, when they're young calves. Our calf facilities had to be a lot bigger, and there's more calves to take care of. Once they get out into the corrals, we handle them maybe three times in the corrals before we ship them, so it's pretty light in terms of labour," he says.
What's next?
Currently, Kielstra Holsteins farm 2,100 acres, the majority of which is used to grow forage for the dairy herd and build up their feed inventories. However, Kielstra hopes to see this change soon. He says they would like to crop farm 800 acres and are open to growing their land base if the right opportunity arises.
The dairy is also working on a new feed processing mill in response to rising feed prices. "[The feed mill] will hopefully give us more flexibility to buy some different grains, to maybe be able to feed and process more grain and multiple different types of grain at once. [It will give us] the opportunity to buy some cheap wheat, or something that we will be able to feed to the cows a lot easier," Kielstra explains.
As with his many other adventures, like getting stuck in the field or spring cleaning, viewers of Kielstra's channel can catch a glimpse of life on a Canadian dairy and follow along, no matter where they are located, as the farm constructs its feed processing mill.
PHOTO 1: Jan Kielstra, known on YouTube as SaskDutch Kid, started uploading videos to the platform in 2019.
PHOTO 2: An integral piece of Kielstra Holsteins' 2018-built facility is the double-12 parallel parlour included to accommodate their 300-head milking herd
PHOTO 3: Designed with convenience in mind, the calf barn at Kielstra Holsteins enables swift disinfecting between calf groups.
PHOTO 4: The uniqueness of Kielstra Holsteins' farm business is their steer finishing program, Kielstra says. The farm's steers are distinguished by blue ear tags and raised in corrals once they reach 3 months old. Photos by Emma Ohirko.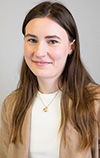 Emma Ohirko

Editor
Progressive Dairy