Crystal Springs Cheese lies on the corner of Range Road 222, nestled among the fields of the southern Alberta prairies.
Evert and Jannie Beyer purchased the cheese-making company in 2005, after learning about it from an ad in a magazine. Today, the site, near Coalhurst, Alberta, boasts a 14,000-square-foot cheese-making facility, equipped with offices and most recently a store and café where their products are sold. The couple and several of their children operate the facility, supplying it with fresh milk from their nearby dairy, which has grown from 25 cows to roughly 140 at present.
Evert and Jannie's son Jacco is in charge of the cheese plant's operation, managing several other team members to process their milk and produce their products. His brother Harvey focuses on product development, sales and business operations. The family dairy farm is run by Theo and Sharleen, Jacco and Harvey's siblings. Before recently having a baby, their sister Jocelyn also had a role in the operations of their retail store.
The family faced a steep learning curve in their first ten years. The cheese company's original owner gave them a two-week crash course in cheese-making. Further discussions with industry contacts and cheese processors in the Netherlands and Canada provided the Beyers with more basics, but they are, for the most part, self-taught. "We had to learn through batches going wrong and customers [commenting] on things they didn't like," Jacco explains.
In the early years, feta cheese production was their primary focus, most of which was sold wholesale across the country and was available in grocery stores through co-packing. These sales continue to account for the bulk of their business.
The growth of the Crystal Springs Cheese brand has been marked by the physical expansion of their production space and their move into retail. The company began to expand their production facility in 2013 and finished in 2018, adding the store and café. This was motivated by their need for an increased storage area to house finished product and packing materials.
Harvey designed their cheese store, which Jacco states was built to "give people a chance to experience what we do." The cheese store has been a great way to improve brand recognition, connect to customers and hear their feedback. The family's foray into retail allowed them to focus on the expansion of their artisan cheese production. This is where Jacco's cheese-making passion lies. He works hard to develop the fresh, handmade specialty cheeses they sell in their store and in grocery and specialty stores across the province.
This has shifted their business and fostered customer loyalty, as customers return weekly to buy cheese from their store. Since the store opened, they have seen on-farm sales grow from close to zero to $15,000 in sales per month.
In March of 2019, Crystal Springs assumed operation of Bles-Wold yogurt. Hennie Bus and Tinie Eilers approached Jacco and his parents to take over production of their yogurt brand. The Beyer family was initially apprehensive of the venture, but Jacco says the diversification this acquisition allowed has been instrumental in their continued operation during these uncertain times. The yogurt, like Crystal Springs' artisan cheeses, is sold through their retail channels. Their retail sales have begun to thrive, cushioning them from the decrease in wholesale revenue experienced in light of the COVID-19 pandemic and restaurant shutdowns.
Efficiency and made-to-order sales set Crystal Springs Cheese apart from their competitors. Jacco and his team are able to produce one week's worth of Bles-Wold yogurt in a single morning, much faster than the previous processors. This ensures freshness, as the yogurt has a three-day turnaround from milking the cows to hitting store shelves with no inventory being carried over. Crystal Springs' products are distributed directly to grocery stores who call in orders Monday mornings and receive the fulfilled orders in store a few days later.
It took years for Crystal Springs Cheese to master product consistency. In this time, cheese-making transitioned from a job Jacco had during high school to a full-time passion. With one challenge surmounted, many others remained. The wholesale market for feta cheese is hyper-competitive, which has made it hard for Crystal Springs Cheese to maintain profits, as large producers dominate the market.
To stay competitive, Crystal Springs Cheese focuses on using 100% Canadian milk, despite the higher cost. All the milk produced on the family's dairy farm is processed into their products. During the peak months of March to November, they purchase one truckload of milk a week to meet their processing needs. The hope is that their herd will grow in order to reduce the need for outside milk altogether.
Entering the retail space came with its own challenges, as the family had no experience with the sector prior to 2018. To acquire accounts, they hired a sales manager on a one-year contract. The sales manager helped get products in stores, but now the challenge is to get consumers to buy and recognize their products. The company does not buy store shelf space, so Crystal Springs and Bles-Wold products are frequently shuffled around and placed in less desirable areas, making brand recognition difficult. To Jacco, the problem is that "people love the product, but it's hard to get them to know about our product."
Crystal Springs' size and location have helped their competitiveness, especially now, when the pandemic has created supply issues for some of their larger retail competitors. A 30% growth in Crystal Springs' retail sales in recent months reflects this.
In the beginning, Evert and Jannie Beyer had hoped to keep their dairy running and allow themselves and their children to work from home. As their business has flourished, their goals have changed. Jacco stresses, they have no intention of becoming a huge operation, and he acknowledges that their goals may not make them as profitable as they could be. This idea is clear when he says, "we want to make a local product but still want to be in a price point where it's affordable for everybody." The Beyers say they feel very blessed and just hope that business continues well and that they are able to achieve full capacity of their processing facility. Crystal Springs Cheese has no plans to shrink their wholesale feta business, but Jacco and his family are excited to shift focus onto the aspect of the business they are more passionate about: making fresh artisan cheeses.
PHOTO 1: Customer feedback helped Crystal Springs' self-taught cheesemakers develop a good, quality product.
PHOTO 2: Jacco and his family are committed to producing handmade cheeses everyone can afford.
PHOTO 3: For Crystal Springs Cheese, opening a store has helped them earn customer loyalty and increased the success of their operation. Photos by Emma Ohirko.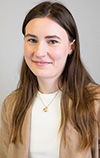 Emma Ohirko

Editorial Intern
Progressive Dairy