The Janssens family came from the Netherlands, where the family mixed farm was too small to support another generation. Jim's grandparents immigrated to Canada in 1949 with eight children; Klaas Mol, their hired hand, came along as well.
The lived at first at Portage la Prairie in Manitoba, where they were housed in a small dwelling. Parents used one of two bedrooms, the two girls used the second, and the six sons and Klaas shared the basement. In 1950, the family moved to the Thunder Bay area in Ontario and purchased their own farm. Klaas married Alie Janssens in 1951.
Wilma came to Canada in 1989 in response to a magazine ad. She met and married Klaas and Alie's son Jim Mol in 1991, and they farmed in partnership with two of Jim's brothers.
In 1996, they purchased their own farm, called Riverbend Farm, with about 32 cows. There were extensive health issues with this herd, including mastitis and high somatic cell counts.
It took heavy culling of stock before they were able to get these problems under control, and now the herd's health is vastly improved. In 2003, they added a new barn but found it difficult to expand due to the astronomical cost of quota.
One day while doing her grocery shopping, Wilma studied labels and realized many dairy products had a lot of additives – yogurt, for example, had corn starch added, and chocolate beverage had added sugar and less actual milk.
This sparked some ideas, and in 2010 she bought an ice cream maker – but found it to be difficult to make and with disappointing results. Still looking for better ways of utilizing their milk, she and Jim visited other small dairies looking for ideas.
She also did a lot of internet research and, in 2011, Wilma invested in yogurt with a commercial freeze-dried culture and thought it might be salable. Wilma says she "made a lot of yogurt … made a lot of BAD yogurt."
In August 2011, they presented a letter of intent to Ontario Ministry of Agriculture, Food and Rural Affairs (OMAFRA) concerning an on-farm processing plant. They also applied for a job creation grant from the Northern Ontario Heritage Fund.
They attended a short course on cultured dairy products at the University of Wisconsin – Madison, which included both class and lab time. On the way home from this course, they toured another dairy but were not impressed by some of the ways things were done there and resolved they would never add skim milk powder to their product.
As they investigated more into this project and developed a business plan, they realized yogurt sales alone would not be sufficient. Fluid milk would therefore also become part of their product offering.
It didn't go as smoothly as could be hoped. Wilma had to design plans for the plant 10 times before obtaining approval, as inspectors did not like her plans and various departments wanted more and more and more and even more information.
Two years later, they finally obtained permission to begin construction and had quotes from contractors by October. However, in Thunder Bay there is no chance of building during the winter months, so it was April 2014 before they were finally able to start construction of their plant.
Bureaucracy was a pain: MTO (Ministry of Transport Ontario) wouldn't allow them to install a driveway until they got a municipal severance, but they couldn't get the municipal severance until they had the MTO-approved driveway.
There were multiple delays in construction: This was the first building of its kind in the area, so contractors had to learn the specifications involved. Thankfully, a wonderful OMAFRA raw milk specialist helped them through all the hurdles.
Finally, it was time to begin processing. The first whole milk batch was to be processed on Monday, Aug. 17, 2015. Media was on-site and promised product for the Wednesday market. The milking was accomplished, the milk transferred to vats for pasteurization – and the boilers failed.
It was 12:30 a.m. the next day before the milk was pasteurized and cooled. They finished the bottling about 3 a.m. To top off the difficulties of that first day, the capping machine didn't work correctly at first.
In addition, as yogurt had been promised for the market, it had to be made that night as well for it to have time to incubate the yogurt culture.
The Thunder Bay Country Market is the third-largest in Ontario, with 80 to 90 vendors in the winter and in excess of 120 in the summer. "Without this market, (we) would not have started this venture," Wilma states.
The very first day there were long lines for their product (whole milk and yogurt only). Most of their product is sold at this market, with some sold to retailers and at the store at the dairy. So far, they have not done any advertising.
It was a learning curve to figure what consumers wanted, but as they have determined customer needs, they have expanded their products to include not just whole milk and yogurt but yogurt cheese, skim milk, cream, cocoa milk, kefir (a product between buttermilk and yogurt in both taste and texture) and a skim milk cheese.
Their cocoa milk differs from most chocolate milks in that it contains just three ingredients – whole milk, cane sugar and cocoa powder. This means there are no preservatives to keep the mixture in solution, so it does need to be shaken to mix prior to using. They are hoping to add more products as time goes on.
Wilma enjoys interacting with her customers and helping to educate them about agriculture and its importance to our society. "Our product comes with a story … we are proud of what we do," she declares.
The Mols use about 25 percent of the milk they produce at their bottling plant. Their son Ian assists Jim in working with the 50-cow herd of Holsteins as well as helping out with sales at the market. Their daughter Nicole works with Wilma at the dairy. The couple's other children, Kyle and Michelle, work off the farm.
Asked what she does in her spare time, Wilma's first response was a laugh – there really isn't much of that commodity. She does enjoy hiking and likes baking. She is hoping to hire help for the store and keeping track of orders, which might free up a wee bit of time for her.
Jim likes to relax in front of the TV, where he enjoys sports. They attend church and Bible study but do not have time for extensive involvement.
Wilma sums up her passion for what she does, "When your life becomes your work, you don't need hobbies. We love what we do and are thankful for the opportunity to do what we love."
PHOTO 1: Wilma Mol, in back, and her daughter Nicole bottle milk at their on-farm processing facility.
PHOTO 2: Cocoa milk was introduced to their product lineup in December 2015. Because it contains only three ingredients, the cream will rise to the top and the cocoa powder fall to the bottom. Photos provided by Wilma Mol.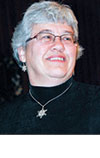 Alice Guthrie

Freelance Writer
Hagersville, Ontario