With test results in the palm of his hand, Chris Mustard now has the ability to more accurately treat mastitis. Mustard farms with his brother, Craig, and their father, Grant, on a 70-cow farm near Uxbridge, Ontario.
For the past two years, he has been working with Dairy Quality Inc. on a trial basis for its Dairy Health Check system.
While the system is designed to give a reading of somatic cell counts within a milk sample, Mustard already has that information from the two milking robots on the farm.
"I have a somatic cell counter on my robots, so I go by the robot reports to see who I need to check," Mustard says.
With the computer list in hand, he goes out to the barn to collect milk samples from the cows. The robot reports will dictate which quarter is high, but many times Mustard will collect milk from each quarter into small sample bottles similar to those used by DHI.
With a dropper, he transfers the milk into a sample slide, which is then inserted in a small device attached to an iPod. Using the iPod camera, the app will get an image of the sample and analyze it.
It also compares test results to a possible pathogen database, and Mustard is provided with SCC and the potential pathogen causing the problem.
"Just by the look of what it's seeing, it gives you an idea of what you can use to treat it," Mustard says.
Previously, he knew which cows had high somatic cell counts and which quarter to start treating, but he never really knew what bacteria he was trying to fight.
On occasion he would send in a milk sample to a lab for testing, but usually the results came back as inconclusive.
"The nice part is to know which treatment I can use on it instead of kind of guessing before," he says.
The pathogen information helps him target his treatment or decide if he should treat it at all.
"I can hopefully get it a lot quicker than before," Mustard says.
Without this information, he could use three different medications and treatments before finding the one to cure the mastitis.
"Since I've started using this, I can get it done in one treatment, maybe two," he says.
In finding a way to measure the milk samples from mastitis cows, Mustard is better able to manage those cases.
PHOTO 1: An SCC testing app uses an iPod or iPhone camera to analyze milk samples.
PHOTO 2: Acute Mastitis, Klebsiella and Mycoplasma
PHOTO 3: Staphylococcus Aureus, Streptococcus Agalactiae Uberis and Yeast Infection. Photos coutresy of Dairy Quality Inc.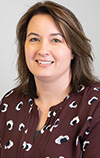 Karen Lee

Editor
Progressive Dairyman